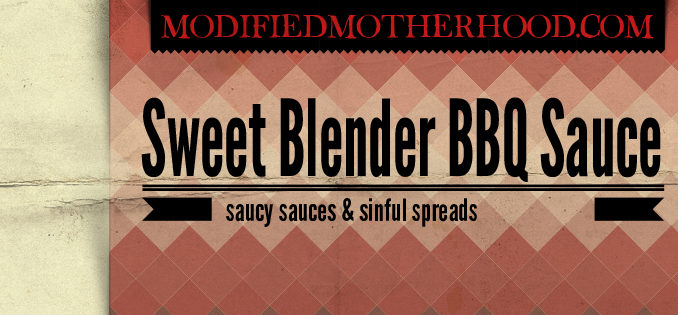 Can you have a Barbecue Sauced Mother's Day? I sure can! I'll be posting two recipes, so two different posts. Maybe three. I'm in a recipe kind of mood. Because I'm considerate like that. See I use the hell out of Paprika recipe app and it can only save one recipe at a time, and trying to save two recipes out of one post, well, it sucks. Mostly because I'm lazy, and like the save button, and not the create your own button. Work smarter, not harder.
Mothers Day found me making pancakes and barbecue (or better known as BBQ) sauce around 10AM. Not to worry, my kids surprise me with breakfast in bed and other treats all year long. So pancakes it was! Beteedubs, pancake mix in the blender? Smart. Tossing in a banana or some super green food with it? Genius. The sauce I made this morning is on this post. The other sauce we used I made a couple of weeks ago, and you can find it here. Joyfully I found mine husband doing the actual barbecuing, which I had been expecting to do. Love. Also on our menu today were hotdogs, a surprise Nutella cake, potato salad, egg salad, and a fresh cut fruit platter sister-mine brought home from work. My favorite fruit is the pre-cut kind!
My dad was a few hours north picking brother-mine up from school and came home a day early! So my Mother's Day BBQ wasn't a complete loss (our guests all had to cancel, no big, leftovers!, but still a bit of a bummer). I got some awesome gifties. Joy! My kids helped tidy up a bit today too. All in all, an excellent Hallmark Holiday <3
Just FYI on the chicken, we cooked the chicken legs for about 15 minutes on one side, then 15 on the other, then turned and sauced for 15 min and then turned and sauced again. Michael actually undercooked the legs for the kids. Undercooked being relative. I like my BBQ chicken a little on the charred side, so cook to your preference on your grill. I highly suggest the pre-cook time though!
Print
Sweet Blender BBQ Sauce  
Adapted from Food Network - Emeril's Sweet Bbq Sauce
Ingredients
3 cups ketchup
1/2 cup water
1/4 - 1/2 cup apple cider vinegar
1 Tbsp molasses
2 teaspoons yellow mustard
1 - 2 Tbsp chopped garlic
1/2 cup chopped onions
2 Tbsp firmly packed light brown sugar OR sweetener of your choice
1 Tbsp Worcestershire sauce
1 Tbsp peeled and grated fresh ginger
Pinch salt
Pinch freshly ground black pepper
Method
Start with onions, then add ingredients in whatever order you prefer into your blender. I use a Vitamix blender - I'm not sure how this will work with any other brand. The original recipe says to use a food processor. Process until smooth, about 15 seconds. Scrape down the sides with a rubber spatula. Pulse 2 or 3 times. Refrigerate overnight before using. Crazy easy. I didn't refrigerate over night, maybe 2 - 3 hours? It came out fantastic, and I had extra to store for later! This should keep about two - three weeks in the fridge if stored properly.