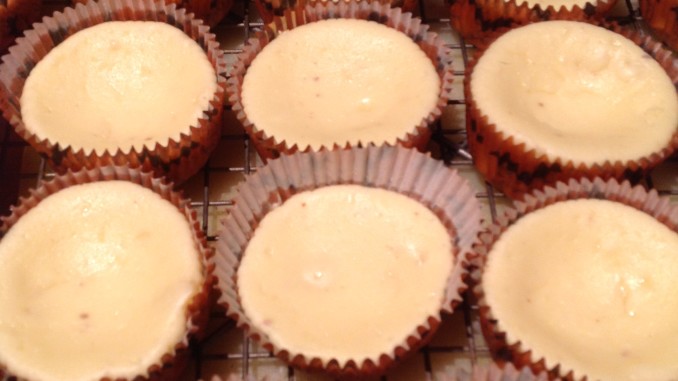 Originally posted in December 2012. Copied verbatim from my old blog.
I spent hours yesterday making mini cheesecakes. They are single-bite deliciousness that you can't feel guilty about eating. As long as you don't over-indulge and eat them all. M hm. So I ran out of tiny cupcake cups and decided to make some regular sized cupcake cheesecakes. And then I have this genius idea to throw a demitasse spoon of cherry preserves in the middle of the cheesecake batter. Oh yes. See, my cheesecake is white chocolate cheesecake. And now it's with cherries. It's heaven. What's that? I sure will be sharing the recipe. It's super easy too! I didn't make enough (and I doubled this recipe!) I need to hit the store.
Print
White Chocolate Cherry Cheesecake Cupcakes
Ingredients
4 bricks full fat softened (room temp) cream cheese (because fat free sugar free cheesecake is a doorstop)
1 C sugar (I used Billington's, but you can use plain old granulated white too)
2 Tbsp flour (I used Pamela's GF mix, but plain AP works too, and rice flour worked even better!)
1 tsp vanilla
4 eggs
6 - 8 oz white chocolate
Method
Pre-heat oven to 325F
Melt the chocolate in a double boiler (don't have one? Throw some water in a small pot, throw a metal bowl on top. Throw the chocolate and melt away. Use tongs to hold the bowl while you stir. Remove from heat once melted, but do not remove the bowl from on top of the water. The chocolate should cool slightly, but not enough to re-solidify.
Beat the cream cheese, sugar, our & vanilla until well blended. I had to scrape down the sides a few times.
Stir in chocolate, mix well.
Add eggs one at a time, mixing on low after each until just incorporated. Why one at a time? It makes a mess if you add all four at once.
Here is the fun part. This recipe makes 116 mini cupcakes (the tiny 1 1/2" ones) OR 18 - 24 regular sized cupcakes (depending on how you pour - I only fill them about halfway, not 3/4). It can also make one 9x13 pan, but where is the fun in that?
Cook for 12 minutes if making mini cupcakes. Cook for 18 - 20 minutes if making regular sized cupcakes, Cook for 45 minutes or until center is almost set if making a 9x13 pan.
Notes
Want a yummy surprise? Mix 1/4 C of any liqueur in with the melted chocolate. Want an even yummier surprise? Fill the full sized cupcake liner about 1/4 full. Use a demitasse spoon (or a little less than a teaspoon) and scoop some jam or preserves into the center. I like using cherry preserves. Finish filling cupcake until about 2/3 full. Bake as directed above. The jam/preserves does fall a bit, so this particular variation would be great with a crust on the bottom, but GF crust is a pain IMO, and it works out ok even without a crust. Not GF? Try throwing a Nilla Wafer cookie on the bottom as your crust!