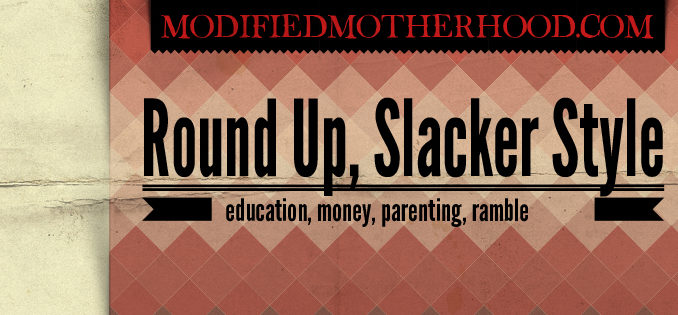 I read a lot of blogs. A stupidly huge amount of blogs. Most of them are for recipes. It's the least expensive, laziest way for me to build up my recipe obsession. You see, I hoard cookbooks. Which takes up room. Which ties in with my third topic for this post, so I'll get to that in a moment. My point here is, I'm a lazy blogger. I bet you knew that. It makes me feel even lazier when I read all my favourite bloggers new posts weekly, if not daily, right in my inbox. See, I'm so lazy they deliver to me ;) I haven't posted since the beginning of April. And I was on such a good roll before then! So consider this yet another month-long update round up type post. And I promise, my next visit to your inbox won't take nearly so long.
Today I glued my daughters Girl Scout patches on. I don't even want to look at my iron and sewing machine right now. The mere thought makes my fingers hurt. Which sucks, because I have the best idea for a new sales venture ever, so I'll have to get over my sewing machine aversion right quick. Girl Scout patches! I came across this blog post about glueing the darn things on the other week, so I pinned it, like all pinterest obsessed people do. I finally went to Michael's this morning and thankfully read the bottle, because that No Sew Aileen's glue is for hemming and basting and is not permanent! What you want is Fabric Fusion from Aileen's. That's the golden glue. There is one that's a little less expensive, but didn't look like it was quite as permanent. So 6$ for 4 ounces or 12$ for 8 ounces… which is weird, aren't bigger bottles usually at least a little more cost effective? Need a 40% off coupon? Go here – Michael's will text one to your phone! Joy of joy, I got that glue for something like 4$.
We took M to his first Boy Scout meeting last night. It went so well. They have a few autistic kids we spotted in the troop already, and it's a huge troop. Like 100 kids over all. Which I think is awesome, as it's a troop thats been in the area since the 70s and he can grow with it. He is super excited, and I'm all about that. It's a shame Boy Scouts seems to cost four times as much as Girl Scouts LOL We'll manage! We were given the name of a woman who deal with second hand uniforms, so we're gonna start there. More patches to glue! Woot!
Next. Savings. Oh, savings. How you tease me so. I had some stuff come up. Doesn't that always happen? Of course it does. And I am totally paycheck to paycheck and even when I do set a huge chunk of change aside for something specific, something awful happens. Like my kid throwing away his retainer. And I never get caught back up. So I'm freaking out about upcoming expenses that *were* paid, but now are not. Plus everything else that pops up. I am, however, still putting 4$ every two weeks into each of my kids savings, even if that means forgoing my own. We'll get there.
3. 30 in 30 – not so much. But we did get rid of stuff. I sold all of my old NES/SNES/Genesis stuff, so that money went immediately to school uniforms for next year (pre-sales) so even though I needed it elsewhere, it was used wisely. I sold some other stuff, and I have been getting rid of stuff. More stuff just seems to take it's place. I swear, it's not Hoarder's bad, but we really need to downsize. You have no idea how tempting selling *everything* is, Storage Wars style, and emigrating. A fresh start sounds so delicious!
4. Uniform shopping. Groan. I totally mentioned it before. Both of my boys are lucky enough to attend our local Charter school. Which is awesome. My oldest, who just started there this year, loved it. I've been super happy with the staff, and what he is learning. I don't feel like he is being taught how to FCAT, which is so important to me. I am able to supplement things he wants to learn, instead of things I felt were being left out. We had an awesome discussion about the USSR, which led into the Cold War, it was a veritable rabbit hole of awesomeness. And it had zilch to do with school, because school had it covered!
So, my middle child is moving into sixth grade next year and the school requires a certain number of parent volunteer hours or money spent in exchange for hours each year. I dropped the ball this year and will be sending a check into the school, but pre-buying the uniforms got us six hours for next year! Plus signing up for PTO got another two. So I'm eight hours into the thirty I need. Yay! However, it was 150$ later on the uniforms and I only walked away with four shirts for the soon to be seventh grader, and four pair of shorts for the soon to be sixth grader, and one jacket for said child as well. This years shirts will get passed down, as M can't seem to keep his shirts clean and hole free anyway. Which will be a huge hassle, as the school isn't anal about uniforms, but they are pretty strict about how they are cared for.
Summer reading – Does it encourage a love of reading? We picked up two of this summers books for the boys. They each need to read it, and I figured they would need it in class for the first few weeks, so one book wouldn't cut it. The school claims it is to encourage an early love of reading, but I think it's forced reading and makes kids resent it more. My 10 y/o was much more interested in the high school book (choice of If I Stay or Enders Game) than the middle school book (Out of my Mind). Fail. I suspect he will be reading both this summer. Which is a shame, as he loves to read, but no one wants to be forced to read a book they don't find interesting.
Summer plans, summer plans… I want to be all, I'll be posting summer plans! But right now, I am scrambling to pay for some things I am committed to, and then we'll go from there. I have a great list of things to do, but I have that every summer. Hopefully I'll be implementing some this year! What are you doing with your kids over the summer? We have a few Girl Scout and Boy Scout meetings to attend. My boys have ample TKD to take. E has lots of dance through the middle of July, but some days it's only in the morning, so I'll have afternoons to fill. Everything in sunny south Florida costs. I am so spoiled by growing up and living near DC and all it's free for donations museums. I think I might ferret some money aside to pay for the public pool one or twice a week at the very least.
I may start micro-blogging. It will spare everyone these crazy disconnected posts, and I won't feel like such a slacker.