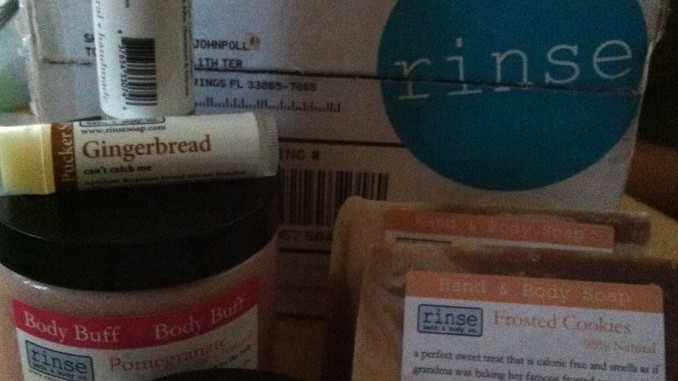 Repost from (2012-11-15 20:00)
So every year we go to the Epcot Food & Wine Festival, and every year I stop at the Rinse stand (you can't miss it, it's right by the front on your way to the food & drink wine) and I probably irritate the gal who is there (who I think is the owner, but let's not embarrass ourselves by assuming) by oohing and ahhing over everything and just buying a years supply of lip stuff to get me through to next year. You know, just. And not one of everything else even though I might really, really want to. Well, this year I only bought a pixie pack for my little pixie (oh, see what I did there?) and a single sick of lip stuff for myself. Which I gave away.
Oh.
None left for me.
So I bought some more goodies online last week and used my 20 % off code that I was given at the F&W and yay I got new stuff! Sometimes it's the little things people. I promise.
I picked up a bottle of argan oil and four more pucker sticks (latte, peppermint, honey & mango). I got the argan for the boys hair – it was a great price and I go through the stuff like water. The lip stuff was for me. And it's divine. As always.
So I don't get a kick back, and even though I don't, go order some stuff from Rinse, because I promise you, you won't be disappointed. The pucker sticks go on light and have staying power. Except the honey, it's kind of sticky. You know, like honey. Not super sticky, just, not as light as the others, but by no means any worse.
And I know I've only gone on and on about lip stuff, but let me tell you, the soap? To die for. I am about to sound like a soap snob, but I only use hand made, cold press soaps and I have for years. I have a stockpile in my bathroom cabinet, so I can't usually justify buying more. Except when I can, which is why I have a stockpile in my cabinet. If you buy some, you will never go back to Ivory or Dial or whatever you are using ever again. Unless you like dry, itchy, soapy smelling skin. And who likes that?
P.S. – there used to be a Fig stick. Which was heaven on my lips, but which they no longer offer. So maybe if we all rally and ask for it to come back? I have one stashed away. Hoarder? Me? Never ;)