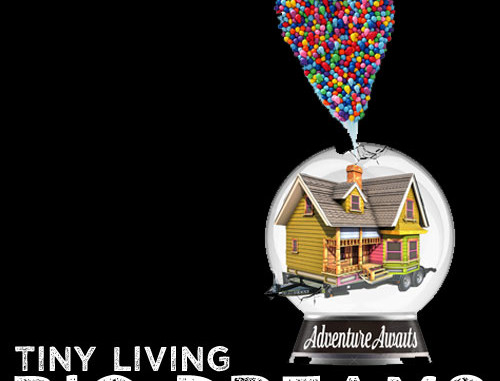 Is tiny living ultimately anti-consumer? Or is it pro smart consumer? Maybe somewhere in the middle? Neither? We have truly been evaluating every purchase. More so than I ever did while trying to save money or pay off debt, both of which I seem to be in a perpetual state of doing.
I've been thinking a lot about this lately. I've been changing how I shop; How I think about what I already own. I've been getting rid of duplicates we don't need now, all the while thinking and mentally ear-marking things we need now, but won't need for tiny living later.
Especially in the kitchen. I keep eying my kitchen like it's my enemy. Which is sad. I like love to cook. I love kitchen gadgets too. For a while I had a crock pot going all the time for broth. Which meant I really had two crock pots going because one was being used to make bone broth and one was being used to make dinner. For a family of (usually) eight, we need multiple crock pots to make this work. If we were just five, or my end goal of just two, I obviously wouldn't need multiple crock pots. Or any crock pots, since I really only use them on days I won't be home to cook in "real time".
Did I mention I love kitchen gadgets? I love my Kitchenaid, and my Omega juicer (which I don't use daily, but when I do use it, I use it daily for weeks at a time), and my Vitamix blender, and my giant Cuisanart food processor, and my toaster oven, and my dehydrator, and my airpopper, and my Keurig. That might be it as far as small appliances go. I'm pretty good at storing them in the least amount of space possible too… but will that be a small enough space? Who knows. The crock pots live on top of the fridge. Is tiny living crock pot friendly?
We had been entering a contest for a camper. Now we're entering a contest for a 16′ Airstream. I'm eying the floor plans and the few photos I've been able to find. It looks like there are no cabinets, but there is a closet. There are no counters. Of course, I'm not eying that for full time tiny living, so those gadgets wouldn't be going with us. But…
It got me to thinking about what exactly we could bring. I've said it before, and I stand by it. My biggest everyday items are my laptop and assorted external drives. I wear the same couple of pairs of jeans and shirts most days (discounting for work clothes), and what? Sure, we have lots of stuff. But nothing I use constantly. Which means while I might have the occasional "gee, I could really use [whatever]" if we up and left everything but our dailies, I don't feel like we'd really miss anything in the long run. It's harder to sort through it and get rid of it (sell it, give it away, whatever) than it is to just leave it, or lose it. I have massive guilt over throwing it out (because landfill) but I feel massively lazy knowing I will probably not actually make it to the community yardsale. I was brainstorming with BrotherMine and we had the awesome idea of taking all our not-junky stuff and having a "dollar store" – i.e. – everything we have there to sell, regardless of what it is, is a buck. We have so much stuff. I think we would do well. Anything leftover could go for donation somewhere. I've listed a few items on eBay, just to see how that pans out. We'll see if it's worth the time and aggravation.
So while I am daydreaming about running away from home, but taking home with me, reality is kicking me in the ass and telling me that it's not going to happen anytime soon.
I am wishing so hard to win one of those campers so we can get a taste of what I bursting at the seams for. I am dreaming of weekends down in the Keys and up in Orlando, west over to Naples, and maybe even as far north as St. Augustine if we can budget our driving time correctly. I'm imagining squishing into that tiny camper with my kids and making the kind of memories that staying and stagnating in our little town doesn't really afford.
Is tiny living anti-consumer? I don't think so. I think it is very much pushing for smarter consumerism, which I hope we've gotten more into the habit of. I'm also thinking it is helping us demonstrate smarter consumerism to our kids than we probably ever have before. Don't buy it just to have it. Don't buy cheap just to get it sooner. Above all else, don't buy it if it's going to take up space and not be used. One day we will all squish into something, and they will be happy we've all become smarter consumers because we won't be quite so squished by our stuff.