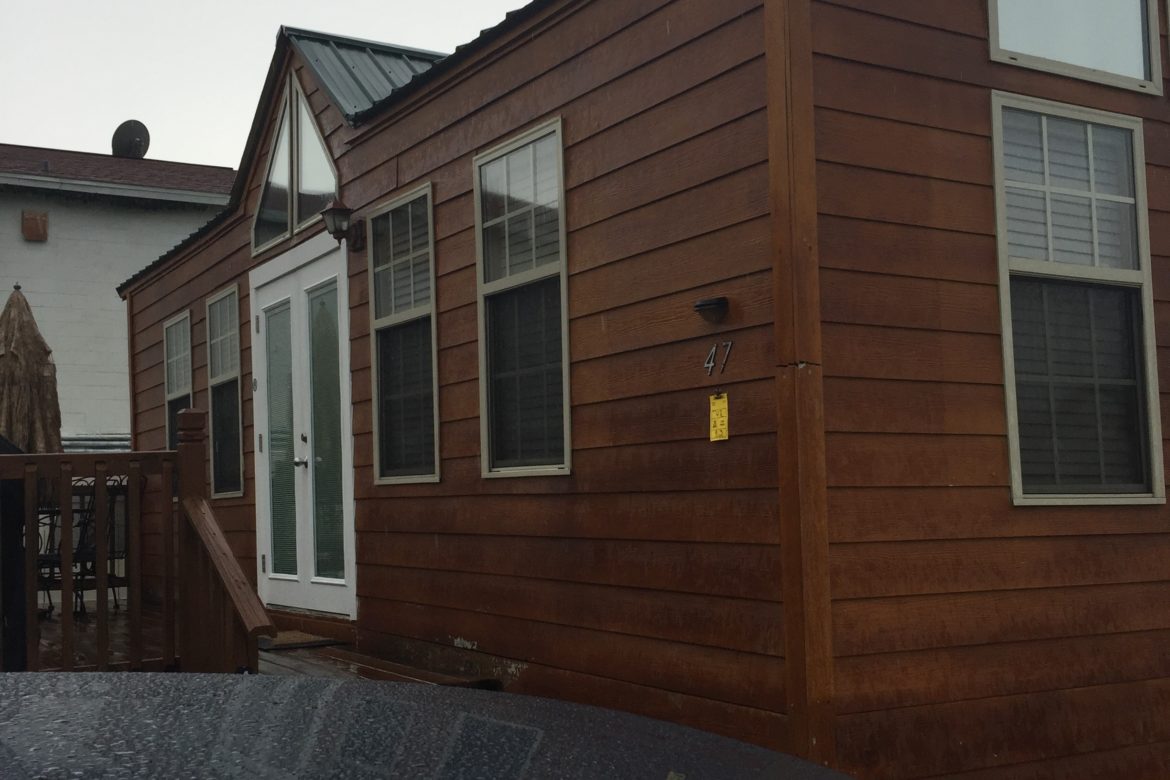 Divest the Mess
This weekend I was l
ucky enough to have another overnight vacay at KOA Kissimmee. I was even luckier (this is debatable) to be rained out of our tent plans and be able to upgrade to a cabin. I will get to the divesting part of this post, but you have to make it through my excitement first. We really had an amazing overnight, rain be damned!
I didn't get a snapshot of the tent campgrounds, but they were flooded. We would have been pitching a tent in the rain in a giant, spongy, muddy, puddle. Instead there was a cabin available, we were able to cough up the price difference, and we were able to spend some quality time as a family in a (roughly) 12'x33′ cabin. We were in a cabin similar to this, although the layout was a little different. Again, a little disappointed to be rained out of tent camping, but excited to have a new adventure! Even the ground around the cabin was flooded and spongy – when we were led over to it, the gentleman doing the leading said he hoped we had out water wings!
While not quite tiny house sized, two of my kids said they could live in something like that, and one of them didn't complain. To me, that is as good as saying it's doable. Not that we're looking to tiny house any time soon.
While we were busy doing vacation things, I found that the girl child wound up with her stuff all over the place, which seems to be her norm. To be fair, it was musty and needed to be air dried, and because it was wet outside, that meant it had to be draped around the bathroom inside. But in a tiny bathroom, that space was at a premium and it showed quickly.
Because of that rain we didn't grill outside for lunch or dinner. I pan fried some hotdogs on the cooktop, which made a mess. Not as big a mess as the bacon did the next morning, but mess enough.
If we were seriously looking into something this size soon, that microwave above the cooktop would be replaced with a toaster/convection oven. I have one at home now that I've used for the last ten or so years that I love. Normally hotdogs go on broil in that toaster oven anyway. I made bacon and burgers in a couple of pans for breakfast. I normally bake both of those items in the oven, so this made a *huge* mess I wasn't anticipating. There was also a mini fridge under the cooktop, and a bit of counter, and a full sized sink. Cabinets above and below finished off the kitchen. There was a Keurig… but no room for my blender. We'd need another length of counter, or some sort of shelving.
We spent some time at the pool, got cleaned up, and went to dinner. Fast forward to bed time. Making up the bunks was a little difficult, but no more difficult than I found our old bunk beds at home. Eldest son slept on the sleep sofa, and middle son wound up out there with him at some point. The Husband and I were in the "master bedroom", which was cosy. It had, I believe, a queen sized bed, and about 9 inches on either side to get into it. There was a wardrobe and a wall mounted TV at the foot of the bed. There were the cutest freaking shelves I've ever seen on each side of the bed.
At 12′ wide, I'd be hard pressed to cut it down to 8′ like most trailers/tiny homes, but I do see how it could be done, and done well.
OK, so the divesting. While we were out and about, we wound up at Old Town. We got rained out, remember? Our plans changed. I saw a bunch of stuff I'd like. I left a bunch of stuff right where I found it. My thought process? Would I have any place to put this/any use for this in a tiny home? No? Leave it where it is. We went to my favorite store, Black Market Minerals, and I walked out with nothing. I saw some gorgeous pieces I'd have bought without a thought in the past. This trip had me thinking "Where would I put this? How would I use this?" and leaving it on the shelf. Even the eldest son was with me on this – consciously or not. He said "I could get this item, but it would just sit on my desk. I don't need it."
I'm using this plan of attack at home. I've moved on from the "it is useful/pretty/make me happy" method to the "is it useful/does it have a place" method. If *either* answer is no, I don't need it. It's not easy. I'm not trying to pretend it's easy. Right now, we are in a five bedroom house. Right now, I do need work clothes, grungy clothes, in between clothes. Right now, I have room for a ferret cage on my dresser. A dresser that I don't have room for in my imaginary tiny home. Clothes I haven't taken out of said dresser in months, memories ferreted away (ah, see what I did there?) in the back of the dresser that I haven't seen in years. I have a tote bag that I made in 8th grade Home Ec and have never used in one of the drawers. Why? I have no idea. It's got to go.
On the flip side, we practically live out of one bedroom and one bathroom already. I already mostly cook out of the smaller top oven and not the larger bottom oven. We grill outside a lot. I love to grill. I don't feel like this is going to be the sacrifice many make it out to be. My dad laughs at me and says I just want to be in a space with no stuff. I heartily agree! Michael thinks I'm fixated on being able to travel and take home with me. That too! But it's so much more than that.
I'm not running away from something,
I'm running towards something I perceive as being even more amazing.
I want to be free to pick up and go wherever. I want to be able to stay put in one place if it tickles my fancy, and to be able to move onto the next place when it's time to go. I want to be able to visit my friends and family on a whim. I find myself envious of people who are already in the place, and sad that I can't make it happen yesterday. I find I have to remind myself that I am making an eight year plan, and that a lot can happen in eight years. Plans change. Life happens. Catastrophes happen. Not that I am anticipating anything catastrophic, but that's kind of the definition of a catastrophe.
The Husband is worrying about logistics, and money, and The Future. I'm living with my head in the clouds, getting rid of material possessions in a bid for immaterial freedom. Or something life changing like that. In the end, I know it's another drastic move in an effort to be happy someplace else. The key factor being, I'm not unhappy here. I'm not running away from something, I'm running towards something I perceive as being even more amazing. Whether I find it in a trailer, a RV, a canned ham camper, or a tiny house, I'm going to find it, and it's going to be amazing.