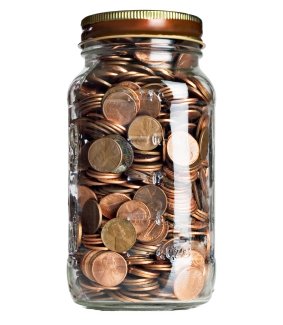 Money Money Money Money Money
Is anyone else singing (or just hearing) the O'Jays in their heads? Yep.
So I just deposited this weeks and next weeks savings into the savings account, so I have a grand whopping total of 36$ in there. I keep eyeing the totals for week 52 on that chart and reminding myself that week 7 & 8 might not have added up yet, but they will before too long! My kids also have (so far) 16$ more in their savings that they didn't have at the start of the year. Yes, it's only 2$ a week, and yes, that's only 104$ for the year, but it's 102$ each they didn't have at the start of 2013.
I actually started this post on 2/15. At the time I was impatiently waiting for our IRS refund to be deposited. It's since been deposited and I had been hoping to sock some away for a rainy day, but that didn't work out so well. My car had a yearning for an oil change. And four new times. Then it decided it needed an alignment, so I splurged for the lifetime so when I go get my tires rotated every 5000 miles they will align them too. Oh, let's not forget the coolant flush. I'm going to figure out how to change the durn air filter myself! So that ate up a good chunk of my "leftovers" after I accounted for everything for the kids. Oh well. I might be able to put a little away. Or I might divvy it up between the kids.
Speaking of, a lot of my friends have been talking about college. Already! Well, the tiny ones do tend to grow up quicker than you would think. I am lucky enough that my grandparents purchased Florida prepaid for my kids – they each get four years in a state school. If they opt for a private college, or one out of state they can essentially cash it in for face value, but all four years of classes are covered 100% if they go state. Florida is huge, so they have the opportunity to travel pretty far away and still be "in state" so I think it will work out. Their prepaid does not cover room, board or books, so we're still responsible for a hefty chunk, but the main tuition is covered, which is amazing. I'm so thankful for this gift as it does mean my kids shouldn't have to take out crazy loans and can possibly get grants or scholarships to cover the remaining portion. And just maybe their stuffed savings accounts? One can hope. 100$ a year isn't much, especially when you consider my oldest is in sixth grade this year, but if I can put some dollars and cents in there periodically it might grow bigger than I'm imagining. I'm still paying off some of my college loans, so if we can even offset a small portion of that, it's better than nothing.