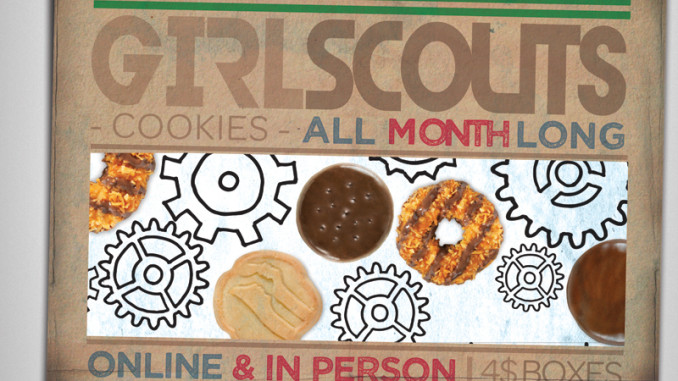 Well, that time of the year is upon us again. No, I am not talking about the Valentine Season (not to knock your chocolate hearts!). I'm talking Girl Scout Cookie Time.
Cookies went digital! If you live out-of-state and would like to buy some cookies from Eshiva, or if you want to donate cookies to be sent overseas, you can use this page to do so safely!
Rather than putting my daughter out on display at the local grocery store, hawking sugar-filled crack that no one NEEDS yet we all like, we are doing what we did last year (and the year before that, and the year before that). Except this year, we're doing it digitally!
We are taking donations to send boxes of Girl Scout Cookies to active duty servicemen and women who are serving overseas and could use a touch of home as well as sending them to wounded soldiers, sailors, airmen, Marines, and vets in the many military hospitals around the world, who, very likely, are also separated from their families.
$0.65 cents from each box of Girl Scout Cookies sold or donated comes back to our troop. That helps fund all the fun activities and educational programs our girls participate in. Last year the girls used a portion of their cookie money to give to the Humane Society of Broward County. This year (last I heard) they've decided to do the same, as well as use a portion to fund a year-end trip, and the rest gets saved for their multi-year savings goal to visit the birthplace of Girl Scouts, Savannah, Georgia. Those girls have a plan, and I think it's a good one!
I know a lot of you have little (and big – mine is certainly getting bigger!) Girl Scouts of your own, but I also know a lot of you are vets, active duty, or just damn proud of our men and women in uniform and would like to help.
I forgot to mention, the cookies are $4 per box, so you can either purchase or donate a specific number of boxes, or just make a flat donation towards them directly through me (PayPal is awesome!). Except for the new gluten-free cookies. Those are $5 per box, they are in limited supply, and they are tasty!
Feel free to share this post, so that we may help out as many of our men and women in uniform as possible.
We generally do donations only – but we understand if you need your girl scout cookies too! Again, you can order cookies to be delivered to your doorstep, or donate for cookies to be delivered to our active serve members overseas, right from this page. I am willing to ship them priority mail if you order 4 or more boxes and pay shipping costs directly through me via email.