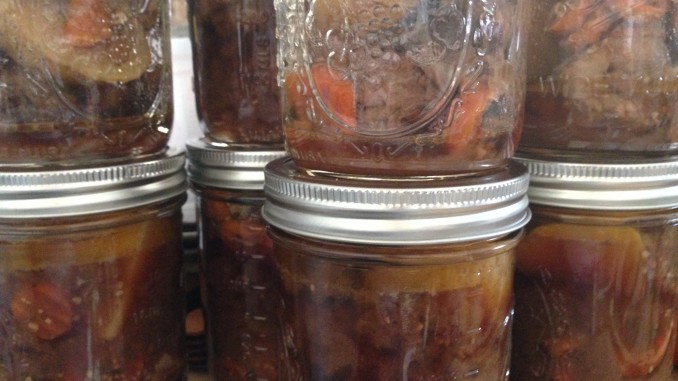 I made this little bit of heaven yesterday. I've had oxtail in my freezer for ages, purchased with the intent to make soup. I wasn't sure what to expect. What I came home to wasn't quite it, but I have to tell you, I am over the moon that I have six jars of soup left plus three jars or "fillings" (meat and veggies with no broth). This is definitely being put into the permanent mens rotation. Plus, ya know, treats for the puppies. They thoroughly enjoyed waiting for everyone to finish last night so they could get at the bones.
This super easy soup can be tossed into your slow cooker in the morning and will be ready when you get home at night. You can't beat the ease of that! If your slow cooker has a timer/delay start feature, you could even prep it the night before and set it to start in the morning so you aren't trying to cook at stupid o'clock. Worried about germs? Prep it and throw the entire thing into the fridge, pull it out in the morning. I have lazy cooking down to a science people.
Onto the recipe!
Oxtail Soup (slow cooker)
2014-10-17 14:23:45
Ingredients
3 to 4 lbs oxtails, disjointed
2 cups onions, diced (I used frozen, already diced)
3 cloves garlic, finely chopped
2 cups beef stock
3/4 cup dry red wine (I used Barefoot Wine Cabernet Sauvignon)
1/2 cup tomato sauce
6 peppercorns
1/2 teaspoon dried oregano
2 whole allspice, or cloves
2 carrots, sliced into coins
1 tablespoon chopped parsley
2 potatoes, cut in chunks
salt and pepper, to taste (if desired, I left this out!)
Instructions
Put potatoes in bottom of slow cooker, then carrots, then onions, then oxtails, then everything else.
If you're out of time, cook on high for 5 - 6 hours. If you have time to let it come together slowly, then low for 8 - 10 hours is best.
Notes
I cooked this on high for six hours, stirred it around two hours in (I happened to be home, but honestly it was unnecessary, I was just being nosy about my food!), and had it for dinner. I left the darn thing on overnight on warm and sipped on it for breakfast before I jarred the leftovers!
Adapted from http://southernfood.about.com/od/crockpotsoup/r/bl9c4.htm
Modified Motherhood http://modifiedmotherhood.com/