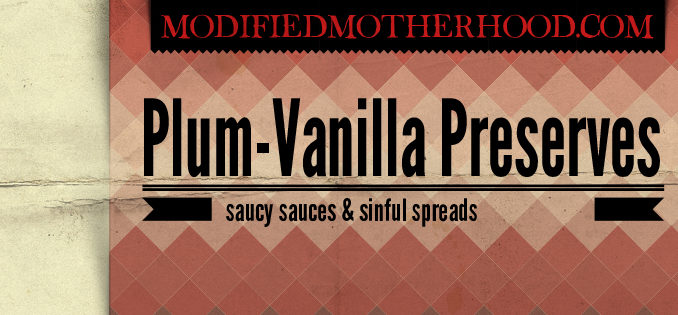 Repost from (2010-11-11 21:13)
I know, I promised it a week or two ago. Aren't I always running behind? I've been canning in the kitchen lately – yum. I've made pear butter and apple butter and apple sauce and I've got more in the works (that's just the recent batches).
So yah, the divine plum-vanilla preserves. I can't remember where I got the recipe from, but hey, what recipe is original any more?
Print
Plum-Vanilla Preserves
Ingredients
1 1/2 pounds firm-ripe plums, cut into 1-inch pieces (with skin) – to be honest, they can be a little mushy
1 1/2 pounds firm-ripe plumcots (pluots, dinosaur eggs) or apricots, cut into 1-inch pieces (with skin) – again, can be a little mushy
2 1/4 cups sugar
2 vanilla beans, split lengthwise and halved crosswise
4 small cinnamon sticks
1 lemon
Method
Put the plums, sugar, vanilla beans and cinnamon in a large wide saucepan. Squeeze the lemon juice through a strainer into the pan. Cook over medium-high heat, stirring occasionally, until the sugar dissolves and the mixture boils, about ten minutes.
Reduce the heat to medium and continue to cook, stirring occasionally, until a candy or deep-fry thermometer registers 220F, about 30 minutes, (To be sure that the mixture has reached the gel point, spoon some onto a chilled plate and put in the freezer until cool. The liquid should set; if not, continue to cook and retest after a few more minutes.) Remove the pan from the heat and let cool 30 minutes.
Meanwhile, sterilize four 8-ounce canning jars and lids
Return the plum mixture to medium-high heat. Bring to a boil, stirring, then add the plumcots. Reduce the heat to medium and simmer until the plumcots are tender, about 5 minutes. Discard the cinnamon sticks.
Fill the jars with the plum mixture, leaving 1/2 inch headspace, then seal and process.
Notes
Variations I like to scrape the vanilla beans in between step 1 and 2, stirring the seeds well into the mix as well as returning the actual bean pieces. Discard the large beans pieces before canning. Step 4 has you discarding the cinnamon sticks – while I am not a cinnamon fan, leaving a stick in the jar adds to the taste over time.