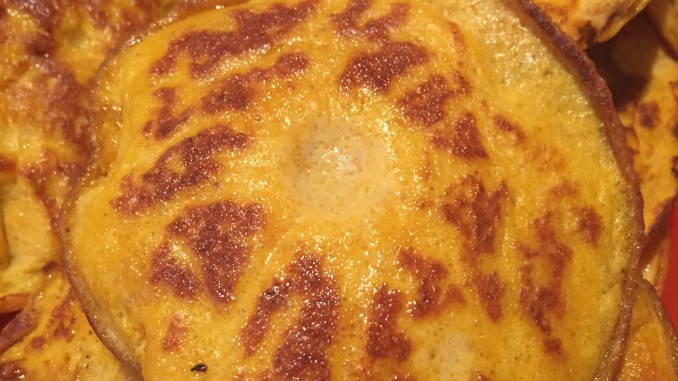 I made these grain free pumpkin pancakes last Sunday to go with dinner. I found the recipe over on Wellness Mama, but tweaked it a little, as I found it much too eggy. My tweaks are in the notes, below.
Dinner was flank steak, mashed acorn squash, and pumpkin pancakes with apple butter. Oh, and chicken soup, but it was like, day three of that soup, so not too many people had it. My brother took most of it home with him. We were glad to see it go ;)
These were a general hit with everyone, so yay! Kind of like the banana-egg pancakes, but honestly, I prefer these. I don't love pumpkin-spice anything, but I love pumpkin on its own. I have enough of the acorn squash left over that I may make a big batch of these with that as well.
Print
Grain Free Pumpkin Pancakes
adapted from http://wellnessmama.com/6660/pumpkin-pancakes/
Ingredients
1 15oz can pumpkin (or homemade, but canned it just fine!)
8 eggs
coconut oil for the pan
whatever topping you like
cinnamon (to taste)
Method
Warm your pan over medium heat. I used an enameled cast iron pan.
Whisk together the eggs, pumpkin puree, and cinnamon.
Add enough coconut oil to cover the bottom of the pan. My pan took about 2 teaspoons.
I used a regular table tablespoon (not a measuring tablespoon) to scoop up a heaping spoonful for each pancake. Think silver-dollar pancake size.
Cook until your pancake firms up around the edges and starts to cook on the top.
Use a silicon spatula and a fork to flip, brown on the other side, and serve.
Notes
I found the original recipe way too eggy. Using the entire can and only 8 eggs left me with a firmer batter and a pancake that was more pancake-like and less egg-like.
I also am not a cinnamon fan, so I didn't add much.
We topped with apple butter, but syrup, whipped cream, or even plain would have been fine!