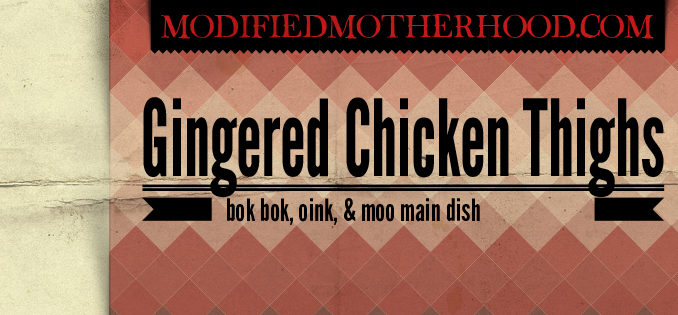 Gingered chicken thighs are amazing.
I happened to have some defrosted chicken thighs in the fridge (because while I was busy making seven pounds of pork and three pounds of ground beef yesterday I stuck my finger up at said chicken and told it to wait it's turn) and this is what happened to it tonight! It was delicious. I sautéed/steamed two bunched of broccoli rabe in a few ounces of bone broth (no additional seasonings) and served it on the side.
Gingered Chicken Thighs
2014-09-12 09:31:45
Ingredients
2 tablespoons ground ginger
2 tablespoons orange juice
2 tablespoons honey
2 tablespoons soy sauce
1 tablespoon curry powder
2 teaspoons granulated garlic powder
5-6 boneless skinless chicken thighs (about 1-1/2 pounds)
PEANUT SAUCE
4 tablespoons broth (I used beef bone broth, original recipe called for chicken broth)
2-4 tablespoons orange juice
1 tablespoon creamy peanut butter
1/2 teaspoon ground ginger
Instructions
Place your chicken in a large ziploc bag, followed by the first seven ingredient. Seal bag and turn/mush (not hard) to coat; refrigerate for up to 4 hours.
Drain and discard marinade. In a large skillet, brown chicken on each side. Transfer to an 11-in. x 7-in. baking dish. In a small bowl, whisk sauce ingredients; pour over chicken. Bake, uncovered, at 350° for 20-25 minutes or until no longer pink.
Modified Motherhood http://modifiedmotherhood.com/