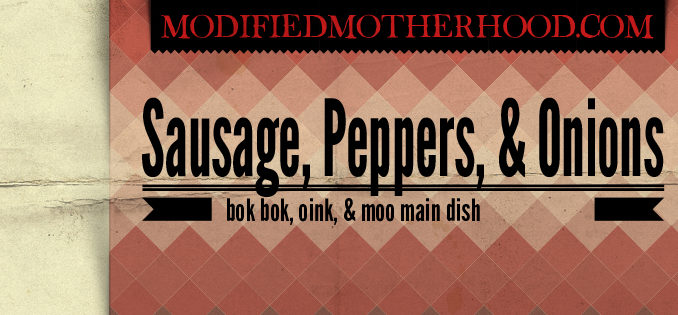 I threw this sausage, peppers, & onions dish together a few nights ago. I was absolutely going to take a photo, but my dog decided the leftovers I left on the stove to cool looked like a tasty treat. Which is sort of unusual for her, but unfortunately, not entirely unusual. What is unusual is that we didn't move temptation beyond her reach. Oops.
I like to buy the big "family" package of sweet Italian sausages at Penn-Dutch. There are usually around sixteen in there, which is enough for two dinners if not everyone eats. Since we have some picky eaters, not everyone ever eats, so bam! Two dinners, and possibly some leftovers. This time, those leftover sausages made that sausage arrabbiata I posted about the other day. So good.
My dad has been grumpy for the last four or so years that I won't buy hoagie rolls to put said sausages on, but we keep telling him they aren't hotdogs (which I also won't buy rolls for, but entirely not the point). I served this straight up in a dish with the peppers and onions on top of the sausages. No one else complained about needing a roll.
Print
Sausages, Peppers, & Onions
Ingredients
8 Italian Sausages
3 - 4 Vidalia (sweet) Onions
3 - 4 Sweet Peppers
Italian Seasoning
Cooking White Wine, or Sweet Vermouth
Method
Instructions
Preheat your over to 400F.
Slice your onions and peppers and set aside.
In pan, brown your sausages on all sides, then remove to an overnsafe dish and continue to cook in the oven.
Rotate your sausages as needed.
While your sausages are cooking, throw your onions and peppers in the same pan you browned the sausages in and cook until the onions begin to caramelize and the peppers soften.
Add the Italian seasoning, and caramelize a little more.
Add the wine or vermouth. This also served to deglaze your plan and adds lots of yummies to your peppers & onions. Yummies is a technical term.
Toss this mixture over your sausages, return to the oven if need be, but your dish is probably ready to eat at this point.
Notes
Serve with salad. I don't like to add more hot side dishes, as it's kind of an "all in one" type dish on it's own.