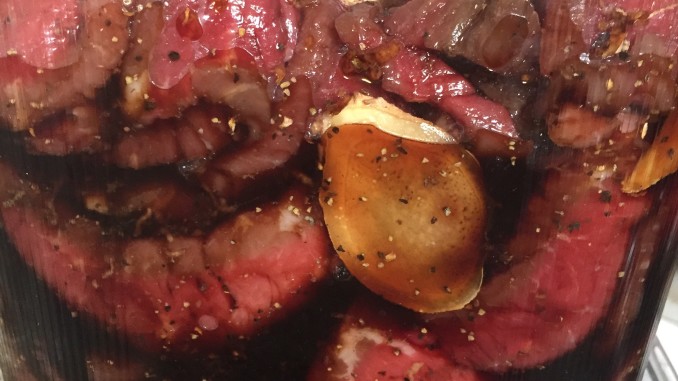 I don't make jerky a lot, but when I do, it justifies keeping my dehydrator.
I usually make a few varieties, but today I just tossed together a pretty "traditional" jerky. I picked up some london broil on sale at Penn-Dutch (you know, the cook it today or freeze it sticker sales – my favorite!) with the intention of making jerky. I feel it's pretty much the only thing that cut is really good for, but maybe you've found a way to marinate the crap out of it and not having it turn out like shoe leather? If you have, do share! I find it a super tough cut no matter what I do to it outside of making jerky.
Print
Sweet & Spicy Beef Jerky
Ingredients
1 lb London Broil
¼ Cup soy sauce
2 Tbsp brown sugar
⅛ tsp ground black pepper
1 tsp grated ginger (I use fresh, and I use a hand-held grater to grate it right into the marinade)
a few thin slices of ginger, to taste, if that's your thing
Method
Slice your beef to the desired thickness. I prefer something between ⅛ & ¼ inch thick. Any thicker and I've found it stay too chewy, or doesn't dehydrate quite the right way.
Mix everything else and pour over the slices of beef and marinate 4 - 24 hours. I usually throw it all in a container and stick it in the fridge overnight.
Spread out on your dehydrator and turn on low (I don't turn mine up over 118F, ever, and usually do meat around 112F) and let it run.
I try to set this early in the morning so it's finished before I go to bed so I don't wind up with inedibly crunchy jerky from letting it run overnight. Or set it up before bed and check it first thing in the morning. This usually doesn't take more than 8 - 10 hours at such a low temperature. Your time will always vary due to however thick you cut your slices. It will take considerably less time if you crank your dehydrator up to 140F - 160F.