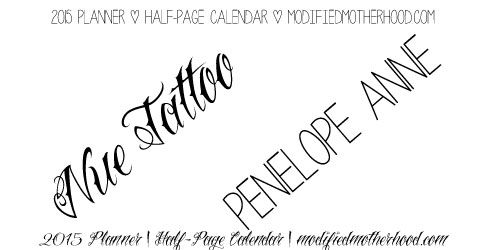 Need a 2015 planner half-page calendar? Look no further!
Offering up free of charge ModifiedMotherhood's 2015 planner half-page calendar. Each PDF is six pages, each page has two months. This calendar is being offered in two different font options, so pick your fav! This year we've got
or
.
A couple of notes:
This is not set up to print front and back. It is set up to print, cut in half, and display on the right page of your planner. Why? I tend to alternate between immediately removing and recycling the used month and flipping the page and using the back as scrap paper. Either way, the next month will always be the front facing right page in the planner. Left handed? No problem! Insert facing the opposite way to make it the front facing left page.
Printing Instructions:
Print on 8.5″x11″ paper, full size. If you want it to be a little more durable, print on cardstock. Cut at 5.5″ (I stack them and slice them all at once with a paper cutter). Hole punch along the top where the month name is and insert into your planner. That's it! No special printer settings needed to adjust margins. I've tested on my printer (which does print to the edges, but this is set up to not utilize that much paper area) and it prints properly the first time, every time.