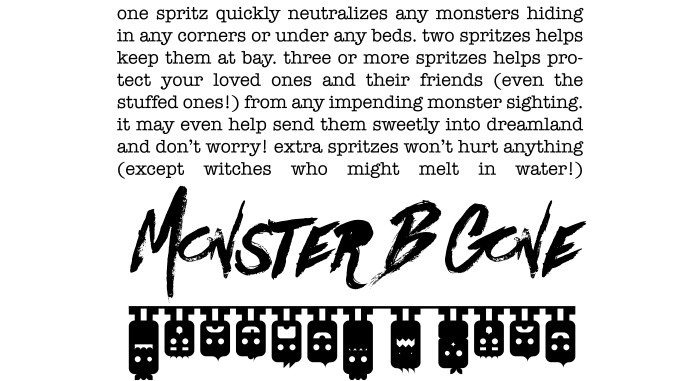 Many, many years ago I had handmade labels for homemade Monster B Gone spray. Then I got fancy and made printed labels. They were amazing. I wish I still had them. Digital backups aren't forever!
My kids are a little beyond Monster B Gone spray age, but maybe yours aren't? This stuff was a bedtime lifesaver for more years than I can remember.
This Monster B Gone free printable label is designed to be printed landscape, and should be (including intentional white space!) 10″x4″. Ten inches should be long enough to wrap around most any spray bottle, and four inches high means it should be a good height. The actual printing is only about 5 inches, so it shouldn't overlap on most bottles.
Need to mix up your own Monster Spray? I like to use 2 Cups water, a tablespoon of witch hazel or rubbing alcohol, and 8 – 12 drops of lavender essential oil. Sometimes my kids pick their own oils and wind up with some interesting scents. I like to use lavender for its traditional calming qualities.
Not interested in mixing up your own? Any room or linen spray will do. Linen sprays tend to be a little lighter and might work better than an actual air freshener though. Even the least crafty person in the world can cover a bottle with some paper and tape. Give it a try!