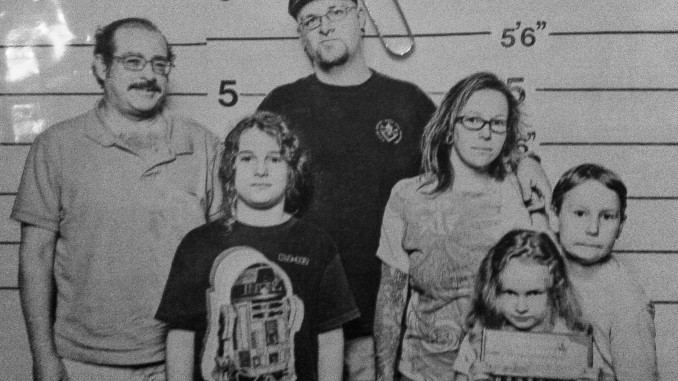 I figured this was going to be an easy prompt to start with. I mean, who doesn't have something to say about their family, be it positive or negative (and rarely, it seems, neutral).
I love this photo. It's a little bit out of date. I think closing in on two years out of date in fact. It was taken at Capone's in Kissimmee. I totally took my then seven (eight?) year old to a "speakeasy" for her birthday. She had a blast and asks to go back regularly. It's a great dinner show, by the way, if you're in the area to enjoy it.
My family has grown, and prematurely shrunk, over the years. My sister died in 2003, and my mom in 2006. We had a rough few years there. Throw in a child who we couldn't understand, couldn't figure out, testing kept getting put off for "later, when we have time," and who, ultimately, wound up being diagnosed with autism and an alphabet of other labels. Add a few more children, two teens who lost a sibling and a parent, a man who lost a child and his wife of *almost* (so close, just days!) 29 years, and we had quite the mix of people left over!
So family, to me, is something that you stick with, no matter what. I was dying to move away. I did at the earliest chance. But when they needed me, I packed all my things and came back. And moved away again. And came back again. Eventually, this was my kids' home, and I dug my feet in and said I'm not moving again. And it worked. We have a weird, probably dysfunctional by anyone else's definition but it works for us, family. I'm sure it's not what my dad had in mind. I'm sure he planned to be in a little two bedroom condo by now, all his children off doing whatever it is they were destined to do. Maybe we were destined to be here to keep him busy.
I can't wait for my kids to be grown. Not because I don't want to be with them, but because I have a major case of wanderlust. I need to travel. They can come with me. I'm down with that. But kids need stability, and picking up and going just isn't in the stars for us. Not without a decent RV and lots of spending money anyway. I'd happily travel and homeschool for a few years. I'd love to show them the US, and then the rest of the world. Maybe if we hit the lotto. Me and everyone else, right? So for now, they have stability, and I have a grand plan for ten years down the line.
So, yah, family. Lilo had it right.
Lilo: "'Ohana" means "family." "Family" means "no one gets left behind." But if you want to leave, you can. I'll remember you though.
[looking at her picture of her dead parents] Lilo: I remember everyone that leaves.
She even figured out that family doesn't just mean blood, but our chosen family too. Sometimes I think our chosen family is more special than our related family, but more special in a different way. If that makes any sense. I recently lost a good friend of mine and it's a month later and I'm still sort of in shock about it. I still expect him to be there at 3AM or in the middle of the day or commenting on some stupid post I've made with some crass comment. Chosen family fills a completely different part of my heart and hurts in a completely different way when it disappears.