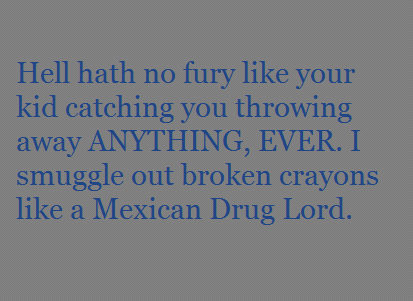 This is why I need to de-clutter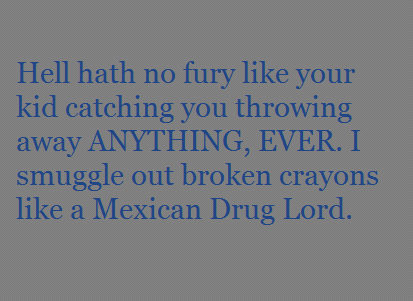 My husband just posted the kids wooden kitchen set on FreeCycle. I am so sad to see it go. It would be a good "for the grandkids" type piece, except we have no place to store it, and I hope to not have grandkids for quite some time. The listing partially states "We have a wooden pretend kitchen set which has a refrigerator, stove/sink combo and corner shelf unit. It has many years of play on it and needs a thorough cleaning. It is missing the basin for the sink. It retails new for $350 minus the corner shelves. While having been through three kids and needing much love, it still has many years of use ahead of it." and he added a link to amazon to show it. Just reading the description makes me sad to see it go. It has had many years of play, and it has many more left in it. My kids have made me spaghetti, eggs, soup, chili, bread, sandwiches, drinks, hotdogs, hamburgers, sliced fruits and veggies and who knows what else in that play kitchen. They've washed babies in it's sink. They've stored precious valuables in the fridge (even if said precious valuable was a drawing they made just a moment before). They've learned that food makes for bonding and that food makes you healthy and that food, like in so many households, is the center of the house. I spend a lot of time with my kids in the kitchen. My youngest helped me make her birthday cupcakes just this passed Sunday. It took five times as long, but she was so proud to have helped make *her* cupcakes.
And so I want to hold onto that silly wooden play kitchen, because I look at it and I see so many happy memories. But in the end, it's just a thing, and those memories belong to me and my kids, not a silly wooden play kitchen. De-cluttering is hard. It's emotional. It's why I still have boxes of items that belonged to my sister and my mother. Why some of their clothes still hang in the closet, even thought it's been so long since they died. But time marches on, and toys for tiny humans make way for toys for bigger humans. Now we have room to bring down the bunk beds, and maybe lay a piece of wood for E to dance on.
So while I am being dramatic about a play kitchen and you are all either nodding in empathy or outright laughing at my craziness, I'm also trying to realize that I am not throwing out memories, I am making room for new ones.