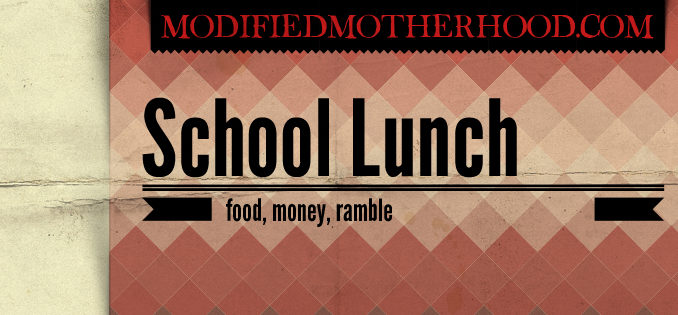 I just posted this to Punky Moms, but bear with me a moment. I have a reason for blogging it too.
First of all, I usually make this school lunches post over on Punky Moms in August. Ha! I'm a month early this year! I don't expect to qualify for free & reduced this year, so I'm already stressing over the added expense of three lunches a day!
I found this amazing blog with photos of paleo/GF friendly lunches, and I wrote down all the combos and deleted the pics and I can't find the fucking blog. If anyone knows what I am talking about, link me up – I give credit where credit is due. I'm thinking I saw the posts on FaceBook and followed them back to the blog, but weirdly I didn't subscribe to said blog – which is weird because I subscribe to all the blogs. I'm mostly posting the ideas here, add your own! I'll be adding my own too!
These were all packed in a tin bento, so individual areas for everything. I bento'd a couple of years ago, so I have all the tiny stuff and a bazillion cute containers already at least.
I know this is basic common sense stuff, but last year I had a "pick one from each column" list on the fridge and at 6AM sometimes thats too many options. I'm thinking of going with seasonal lists like these this year that just match what produce we have in the fridge in any given month.
mango
berries (berries always = blueberry, raspberry, blackberry)
chocolate chips (like 10) – I like the costco brand one
ham rolls (rolled meat, nothing fancy, but prettier than a pile o ham)
avocado slices
_____
avocado slices
roasted butternut squash
chocolate chips
berries & mango
leftover chicken
_____
strawberries
cucumber, sugar snap peas, grape tomatos
taco meat over greens (spinach or salad greens)
nectarine
_____
mango
berries
chocolate covered almonds (like 3-4)
chicken leg & roast potatoes (appeared to be leftovers)
roast cauliflower
_____
carrots
apricots
berries
chocolate covered almonds
chicken leg
almonds (plain)
_____
avocado slices
strawberries
tomatoes
dried apricot
pulled pork
roast sweet potatoes
_____
sugar snap peas
strawberries & mango
chocolate covered almonds
hard boiled egg(s) and bacon
avocado slices
_____
fresh coconut meat
carrots, blueberries, raspberries
dates
ham rolls
cashews
_____
avocado slices
berries
chocolate covered almonds
seasoned ground beef w/ asparagus
cucumbers
sugar snap peas
_____
avocado slices
berries & mango
apricots
roast chicken over greens w/ dipping sauce
cauliflower
_____
asparagus
berries & mango
apricot
pot roast
potatoes
_____
berries
butternut squash
dates
crockpot roast
fresh coconut meat
_____
sugar snap peas
carrots w/ guac
macaroon
seasoned ground turkey over greens
raspberries
_____
blueberry goat cheese
strawberries
shrimp w/ dipping sauce
sugar snap peas & carrots
_____
sweet potato fries
berries
chocolate covered almonds
burger w/ dipping sauce
sugar snap peas & carrots
_____
mango
sugar snap peas
chocolate chips
crockpot roast w/ dipping sauce
potatoes
_____
roasted broccoli
raspberries
fresh coconut meat
macaroon
sausage over greens
avocado slices
_____
avocado slices
blackberries & strawberries
chocoalte covered almonds
chicken leg
green beans
_____
carrots
raspberries & blackberries
chocolate chips
taco beef over greens
mango
_____
I'm thinking of adding things like our nitrite free hotdogs, turkey, and salami to the meats list (in addition to ham, chicken, chicken legs, roasts, etc..) – really using the hell out of our leftover proteins and not just buying lunch meats. M loves those chicken sausages, but the other two don't, so a package of those Sunday night will last him a week or maybe even two! Bananas are a must, apples. Veggies are my problem area – my kids are weird and like mushy over cooked mush, not crisp, healthy veggies. They will eat the hell out of salad & ranch though. Applesauce, peaches, pineapple. I need to start making jerky and fruit leather again. It's just been way too hot to have the dehydrator running, even though I run it around 90F – it runs for a full day and really heats up the downstairs!
I recently renewed my emeals.com subscription, and had a coupon for a free lunch subscription with it (let me know if you want the code, I'm not sure if it's expired, but I'll pass it along!), but most of their lunches don't mesh well with our diet :/
School shopping brought this on today. We picked up crayons and markers and notebooks and folders. I managed to save a lot from last year. Both my boys are in middle school this year! One left in elementary – which seems to have the biggest list of "things we need and don't use" LOL What is up with that? Like I said, huzzah for saving last years "things we needed but didn't use"!