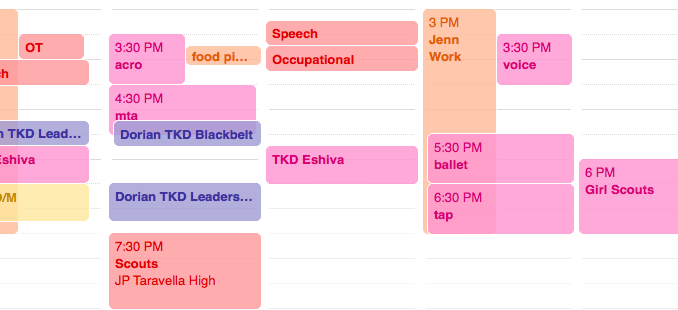 Is anyone else singing in their heads now? You're welcome.
School starts Monday! Maybe your school has already started, and maybe you start after Labor Day (I always did as a kid). Our summer generally  runs from around the second week of June to the Third week of August.
Are you ready? My boys are wrapping up their summer reading projects (or should be). Backpacks are packed. Lunches are planned for. Supplies have been purchased. Uniforms are ready to go. And we're mourning the summer freedom of sleeping in till noon and staying up all night.
I started back to work last week, and the hours have just been piling up. My set schedule starts Monday. Extra-curricular activities have been scheduled. Therapy has been scheduled. My calendar looks like a box of markers vomited all over it once again and it's not even complete. That's just my afternoon. Forget what my mornings look like. Or Saturday. I work Saturday 830 – 3ish. Kids have TKD in the morning. Oh, and Malachai's TKD isn't on there because we aren't sure when his classes are yet (if he is with Eshiva or with Dorian or someplace else entirely). I haven't planned out any dinner meals either, other than knowing I have to crock on Thursday and Saturday. Maybe I'm not as ready as I thought.
We're trying to wrap up some last minute doctors appointments, and I am  hoping to make it to the DMV tomorrow. Some appointments were not available until after school started, but that's just what has to happen sometimes. I already have a quiet lunch date with my husband planned for Monday, and I have a tentative Tattoo Tuesday planned for, well, Tuesday ;). I have a memorial tattoo planned that is overdue, and even if there wasn't, there are always tattoos that need to be created!
So, tell me! What did your school year prep look like? Homeschooling? Unschooling? Public? Private? We've done them all, and I know they all involve some sort of prep, even if you are a "learn on the go" unschooler! I'm waiting to see what classes my boys have this year – their online system doesn't seem to be up yet. I just found out the little one got our requested teacher for fourth grade – I had a sloppy grin all the way home from her school after seeing that! After the wreck that was last year I needed some good news and the knowledge that she'll be challenged this year.