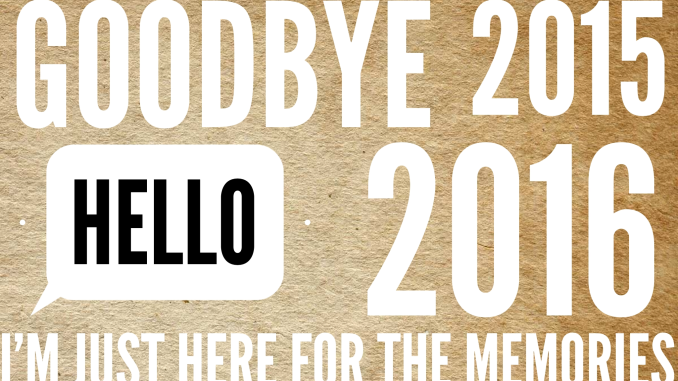 I succumb to the same sort of reflections most people do around this time of year. Usually because I am in a rush to make sure everything is in my memory jar before I seal it up and store it for the year. I carefully go through my Twitter account, Facebook too, from January 1 through December 31. I make sure everything is in there, good & bad. I quietly said Goodbye to 2015, and I loudly shouted Hello 2016 – I'm just here for the memories.
My memory jar this year is sad and half empty. I feel like we did so much. We went to stage shows. We saw Newsies twice! We saw a fantastic showing of Gypsy earlier in the week. We went camping. Good god did we go camping. We went to the water parks all summer long. We did so much, from local traveling to science experiments to tv show marathons to doctors appointments and every thing in between.
So what the crap? Even going through my social media accounts I'm not seeing the stuff we did. There's nothing noting those accomplishments other than my failing memory.
Maybe I accomplished my ongoing goal of being more in the moment instead of trying to capture the moment? #Project365, apparently, is not for me.
Don't get me wrong. I love to take photos. My instagram is testament to that. Sorting through my ig, I discovered just how many times we went camping, to water parks, to Disney, out to eat, built
something, cleaned something, baked something, made something. It was an eye opener. While my trusty d90 is gathering dust, the picture button on my phone must be begging me to stop abusing it. I didn't post every photo, I didn't tag every person, and I didn't print anything. So maybe the rest of my memories are safely stored on my external hard drive. Meticulously backed up on one of many jump drives tucked safely into a box, for perusal when I'm 90 and can't remember my name, let alone my amazing adventures. But for this year, I remember we were taking that time to have an adventure so we'd have memories later.
2016 is going to be my year. My year to realize a few dreams. My year to cut a few dreams loose because they aren't copacetic with the really important things. My year to make those really important things central to just being. Everything else will fall into place because we will all be busy creating the moment instead documenting the moment. Say Hello 2016 and keep an eye out. It's gonna be big.