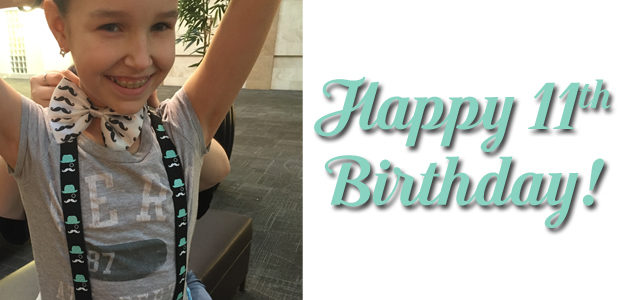 My littlest baby is turning eleven today. I have been parenting for 18(ish) years now. Give or take. So she's kind of getting run down, tired of this shit mom. I mean, how many times can you do fifth grade math?
I'm just throwing that out there to get this in perspective. I love my kids, all of my kids, and I like to think I do the best by them in everything that we do. I am ready to do something new, so I am both melancholy about her turning eleven, and super excited. For both of us. I've never been my current age, and she's never been her current age, so by definition, it's new to both of us. I'm excited to see what this year brings, even if it does turn out to be more of the same old in regards to the parenting schtick.
Eleven is eleven is eleven. But her eleven is unique to her – and I hope she knows she is [to me] a beautiful snowflake in a world of slush.
She's the baby. She's the girl. She's learning to hold her own because of – in spite of – both of those things. She's feisty. She's strong. She's outspoken. She's a Veronica in a world of Heathers.
We went to our local mall, gift cards and birthday money in hand, and shopped. We hit up The Children's Place and Crazy 8s. We wandered around Hot Topic and Justice (I think there is totally something to them being right next to each other now). We explored the eternally closet-sized Claire's and the overwhelming enormity of Bath & Body Works. She came home laden with bags of clothes and body wash and scented sprays and nail polish and toys.
She embodies a strong "tween" and I hope she continues to grow into a strong adult. She is sure of her choices and her desires. She knows what she enjoys doing and what she doesn't. She is learning what she can get away with doing a minimum of to get by in order to do more of what she likes. She can hold her own in everything that she chooses to do. She will continue to hold her own in everything that she will choose to do.
She is trying her hardest to be a social media queen in a world I have locked down. I'm sure she will blossom once she's a few years older and has a little more digital freedom. She is exploring fashion and makeup and art and music. She is exploring different types of dance and finding out which suit her and which aren't her "thing". I'm hoping she outgrows me because most dancers have to be at least 5'4″ and I'm barely 5′. I want to hand her the world, but I want her to learn the value of earning her place.
I wish I was that cool when I was eleven.
I don't know what direction her life will take her in, but I am sure it will be amazing. After all, she is going to take over the world.