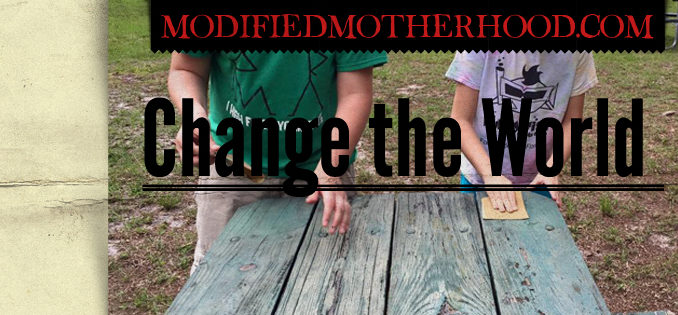 Changing the World. I just got notification from our troop leader that our troop's Juniors were awarded their Bronze Award! That is some exciting news! Thirteen of our girls participated in this and while the award and recognition is second to the actual work they did, I am so proud that their accomplishment is being recognized. They are all on a path towards the National Young Women of Distinction award, and as the Girl Scout page says, "These young women are taking matters into their own hands and being the change the world needs!"
One of the taglines for Punky Moms has long been "Saving the World, One Child at a Time". Well, those children are beginning to come into their own and do their own saving and changing. I love hearing from our moms about what amazing things their kids are doing for their communities. I love hearing what they are doing with their kids to volunteer, make changes, improvements, and in general, be a mentsch.
---
---
Our troop refinished the picnic tables at our most local (and sadly, rundown) campgrounds. We need to get them fixed up so we can use them!
You may have seen these photos, I shared them on instagram a couple of weekends ago.
There was much behind-the-scenes planning that happened to make it work. Our leaders are amazing. I just hang around to see if they need a hand, but they never seem to.
The girls spent a lot of meeting time deciding on designs for the tables, picking colors (in the end, they had to be one of two colors), figuring out what tools were needed. It goes on and on. They did a pretty good job, with a little bit of adult help and supervision. Paint is, ah, messy, at best.
Has your troop started working towards these awards? What sorts of projects are your girls doing? I won't lie. I'm snooping for ideas. The silver can apparently be group planned, but has to be individually done, and the gold is full on individual from what I am reading.
I love our troop. We've been with them since the beginning, and I hope to be with them for at least the next eight years, if not longer. Silver and Gold awards? Pssh, no problem. Distinction award? It's a long-term goal. One I will be so happy to see my daughter, and all of her troop, accomplish.