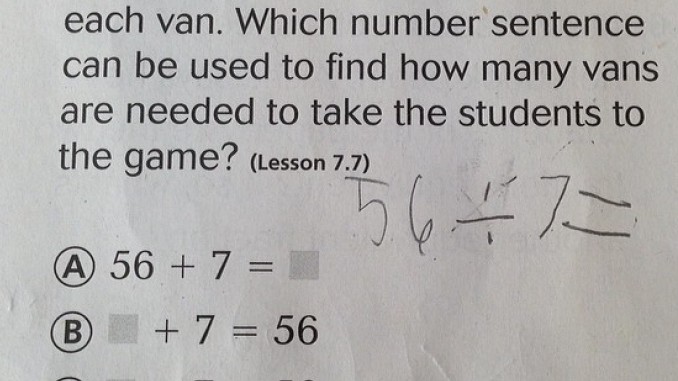 My last few instagrams have been tagged with #commoncore #commoncoresucks #ihatepicturesofmath #floridaeducation #thirdgrade #math and I should have added #frustratedthirdgrader #frustratedparent and a few other choice #expletives on top of those. That image is the most recent. I used a slightly different one as my post image, but both contain math problems that we had problems deciphering. I deduced that the answer was 'a' only because solving the equations produced an answer of nine, and there were nine blocks. Although further examination showed the answer could have been 'b' but it required some creative interpretation of the the blocks. Yes, common core has invaded my daughters classroom and we are not happy about it. The only thing I am happy about with common core is that is has not invaded the Cambridge program my boys are following and from what I can tell, never will.
That last link? Related: My daughter came home with a new dictionary today. It has an entire page dedicated to pushing vocabulary. Which I love, I love throwing around "two dollar" words (also known as fifty cent words, SAT words, and don't be such a smart ass words). When I was in high school I took it upon myself to copy every word and definition in my fathers ancient college dictionary that I didn't know. But I chose to do it on my own and I was fourteen and while I wasn't busy being a gutter punk I was busy being smart. It wasn't pushed on my when I was nine. The last page has the worlds longest word on it. A neat trivia tidbit, and I guess a good book closer (does a dictionary need a closer?), but what does a 1400+ letter word have to do with anything in third grade? And it's not like we didn't have dictionaries in our home. I still have the aforementioned (fifty cent word!) college dictionary, displayed prominently on an accessable shelf. How about teaching the kids how to use a dictionary (and thesaurus while you're at it!) instead of passing out things they don't need? I have had to teach all my kids how to do this type of basic research. I love homeschooling, but I didn't sign up for it recently!
She doesn't even have science or social studies every day. She has them two or three days a week. What does she have every day? Math and reading. Which are important, but are they so important as to lose all other subjects? What about art? Music? Gym? We fill in a lot, but should I have to fill in an entire curriculum? My kids go to school from roughly 7 – 2:30, and then we have activities from 3 – 8, or even until 9 some nights. Factor in three kids and dance, taekwondo, extra TKD for the oldest, speech and occupational therapy, Girl Scouts (meetings and activities), Boy Scouts (meetings and activities), after school clubs, after school tutoring, and for the first time in my kids lives, I work two afternoons a week (to help pay for these activities!). We do crafty things on the weekends (I work Saturdays, 830-3) and thank god they like science experiments, because a lot of our crafty things are science in disguise ;) So time to muck about outside is nonexistent because we're making up for what is missing in school.
I am already fighting my middle son falling through the educational cracks. I don't have the time, or energy, to fight about what my daughter is learning (or not learning as the case may be!) on top of that. I do not appreciate that my kids right to a decent education was essentially purchased by the highest bidder. Non- educational companies funded common core. Businesses that have no busines being in education. They are not trained teachers. They are not professors. They are CEO's looking at their bottom line, and their bottom line is money. The states followed bribes (oh, incentives, my apologies – aren't they the same thing?) and implemented this mess. Maybe if we worried more about what our children are learning, and how they are learning it, rather than jumping at money that is disguising the fact that there is no educational plan (there is no outline in place for common core. No books. No resources. Just testing score guidelines), our children would actually be learning something other than how to control their frustration.