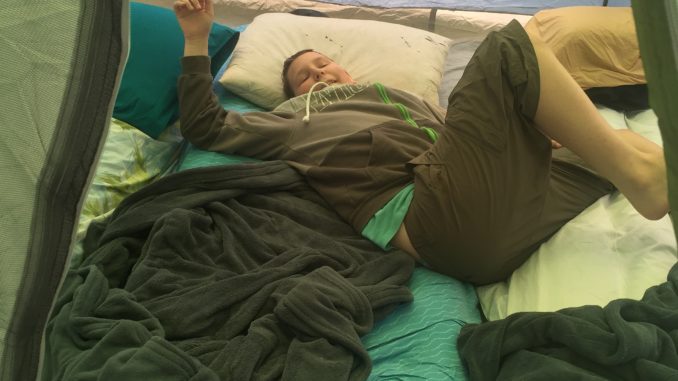 I know Boy Scouts gets a lot of flack as a group. But I've long said most groups are jerks while the individuals that make up the group are usually at least tolerable, if not friendly and helpful and genuinely nice people. Well, Boy Scouts, as a group and as individuals, has come through for us. What started as an individual, who has been amazing since we joined this troop three years ago, turned into my being impressed with the group as a whole today.
The Husband got a call this morning from our main troop contact with good news! BSA is working with us to help our son advance his rank. He's kind of been in a holding pattern for a while now.
To back up a bit, M joined Boy Scouts the summer before sixth grade. He went right into a regular BSA troop (not Cub Scouts I mean, he was on the cusp of age/grade requirements), and has been working hard ever since. The only thing holding him back was his inability to pass the swimming test. We don't have a pool, we don't have access to a pool, and frankly, while M is doing amazing and hasn't been in PT for a few years now, some things are just beyond his ability. He loves to be in the water, and I'm pretty sure he won't *drown*, but swim well enough to pass the test? Not really.
So Mr. C approached our local BSA board to see about alternate or modified requirements so he can pass swimming and move up through the ranks. This has been ongoing for at least a few months now, but likely longer. I'm so bad with time. I think I offended him sometime. Yah, me and the Mad Hatter.
I have researched your request to allow Malachai J. to have swimming related rank requirements Second Class 8B and First Class 9B to be modified and allow him to wear a PFD to accomplish these requirements. I have reviewed the Guide to Advancement 2015 and spoken with ML in the national Office.
Apparently it went all the way to the national level of the BSA organization. Wow! I didn't realize so much was going on behind the scenes. I thought this would be a simple, local allowance. It falls under the ADA as far as I know. It isn't that Malachai "doesn't know how to swim", it's that he is physically unable to properly swim in such a way he can pass the test. In other words, it's not something a handful of swimming lessons would help.
At first I agreed that the simple addition of allow Malachai to wear a PFD to complete the rank requirements seemed like the obvious solution. When I spoke with ML he quickly said "no" and then explained, the Guide to Advancement allows for substitution but not modification of requirements. Allowing Malachai to wear a PFD is a substantial modification of the swimming requirements and he never would actually achieve the safety designation of "BSA swimmer."
It was suggested he take the test with a life jacket to keep him afloat. The folks at national level basically (understandably!) said the modified test that was suggested was so modified it negated the point of the test. No one had asked me – I would have said this was pointless anyway. He can float for days, but he isn't coordinated enough to functionally swim. They then suggested another activity that requires skill, practice, and accuracy.
Instead the proper approach is to identify a "substitute" requirement that meets a similar goal, in this case physical fitness and skill. ML referred me to the Application for Alternate Eagle Merit Badges (http://www.scouting.org/filestore/pdf/512-730.pdf) He suggested archery as an activity that would require skill, practice and accuracy.
Well, as it so happens, Malachai completed his archery merit badge at camp last summer.
When you shared Malachai's advancement report it turns out that he completed Archery Merit Badge at summer camp. This merit badge was completed during the time frame that he was also working on his rank advancement. Your letters show his demonstrated multiple efforts to pass the swimming requirements.

I have also discussed this matter with your district advancement chairman JQ and he concurs that the requirements for the Archery merit badge will be considered an accepted alternate requirements for Second Class 8B and First Class 9B. Malachai should be considered qualified for the First Class Rank.
Whoohoo! Can I tell you how excited we were after the phone call this morning? So reading all the full details in an email was just the icing on the cake.
Malachai has a scout master conference this week for Second Class and another next week for First class, because apparently you can't double jump ranks. After all the time, and he will pretty quickly move right up to First Class and get that at our Court of Honor at the end of the month. Well, he took the long way around to quickly, but since he was able to keep working on advancing even though the swimming was holding him back… it feels like it's quickly.
Amusingly, they also added:
I have one remaining concern, this substitution of requirements should not be misunderstood to think that Malachai is now rated as a "BSA Swimmer." I know from our conversations that you are very aware of Malachai's swimming difficulties, please make sure that all of your unit leaders are clearly aware of his difficulties when engaging in water based activities.
To which Mr C replied
Malachai is well aware of his inability to swim and does not sign up for any water activities. I will share this with the other scout leaders.
So yah, no water activities, which is mostly ok. He is doing a "Mountain Man" camp this summer, no water involved. I'm kind of jealous. It sounds like a fab week.
Travel back in time to 18th Century Appalachian Virginia where a single shot muzzle loader, an axe, and a hunting knife were the only tools a man needed to survive. At Mountain Man, Scouts will dress, eat, and live like the Long Hunters who explored, trapped, and eventually settled Virginia's western frontier.

Located near Camp Ottari
Cook over open fire
Muzzle-loading Riflery
Make your own Green River Hunting Knife and sheath
Blacksmithing
Wilderness Survival
Living History
I got almost all the way through with without mentioning autism or any other disabilities. I'm limiting what I am mentioning. I just want to give a shout out to our Troop 497 for going above and beyond and working with Malachai for the last three years, and I hope, until he reaches Eagle. While it's more important to me that *he* doesn't let anything get in his way, I am so happy we found a troop that also doesn't let his few inabilities to get in his way either.