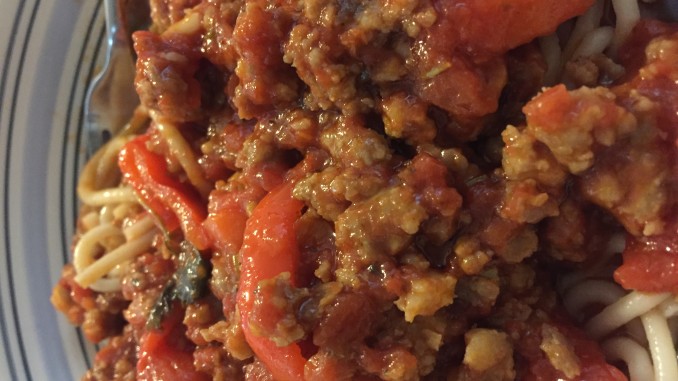 I had some sweet Italian sausages left over one night (this happens when you buy the super mega family pack) and decided we hadn't had an arrabbiata sauce in far too long.
What is arrabbiata? Blasphemy! It's so good. And so easy. Wiki says:
Arrabbiata sauce, or sugo all'arrabbiata in Italian, is a spicy sauce for pasta made from garlic, tomatoes, and red chili peppers cooked in olive oil. "Arrabbiata" literally means "angry" in Italian; the name of the sauce may well be due to the heat of the chili pepper and one's reaction to it.
I like to doctor mine up a bit and add a good deal more. I served this over Tinkyada brown rice spaghetti (which I prepared the "lazy way" and it came out even better that the normal way!) and it was delicious.
As I have been trying to save on groceries lately, this was made with stuff I had in the house. I've been told I keep a better stocked pantry than most, or at least more diverse, but this is all food I regularly keep in my kitchen. No special shopping trips needed, no shopping for a specific dish on shopping day. I'm trying to be diverse and flexible like that.
I've added some notes at the bottom. I used to make this with no meat. It's traditionally made with no meat. I really, really like this dish with no meat, served with eggplant, zucchini, and other veggies that will stand up to a sauce like this. I even like to add some greens in if I think no one will notice (like baby spinach, yum!). So I noted that it has a "vegetarian option", but really, the only reason the sausage is stealing center stage today is because that's how I made it this time. Next time it might be 100% meatless, and the time after that I might add some seafood instead.
Sausage Arrabbiata
2015-10-15 10:56:49
Ingredients
Sauce
8 Italian Sausages, casings removed
2 28oz cans peeled tomatoes OR crushed tomatoes
1 8oz can tomato paste
2 onions, diced
10ish little sweet peppers or 3 large bell peppers
2 - 3 Tbsp diced garlic (to taste, I usually add more)
~¼ Cup fresh basil, if available
~¼ Cup fresh oregano, if available
if fresh herbs are unavailable, use 2 Tbsp Italian seasoning
sriracha, or hot sauce of your choice
S&P to taste
olive oil
1 pkg spaghetti (I used Tinkyada brand)
Diced Eggplant
Diced Squash (zucchini, yellow squash, etc..)
Instructions
Dice your onions and garlic and toss in a pan with some olive oil.
Slice your peppers, add to your pan.
Remove the sausage from the casings and brown.
Once your sausage is finished, drain if needed (honestly, I usually don't need to drain this, but I know some sausages are fattier than others, and maybe you added a lot of olive oil?), and add your tomatoes.
Add your tomatoes and herbs now. If you have whole tomatoes, let them cook down a bit and then smash them with a wooden spoon or a potato smasher or just mush them up with a fork. If you are using crushed, you're golden! Make sure you rinse your cans and get all the sauce out. I usually add ¼ - ½ cup of water to my sauce this way.
Add the tomato paste and stir it in. If the tomato paste doesn't break down, add a little more water until it does. You're looking to thicken up what you have, but not so much it binds everything together.
If hot sauce is your thing, add it here. I like giving a squeeze or two of sriracha. Not enough to make it "hot" but enough to give it that little something extra.
Bring your sauce to a low boil, and then turn it back down to a simmer. I like to leave it uncovered and let some of the water boil back down. I know, we just added that water! Trust me, it makes for a delicious dish.
Make your pasta. Tinkyada has an energy saving direction on their packaging where you boil your water, add your pasta, keep it boiling for two minutes, and then cover and turn off the burner for around 18 minutes. This made the perfect pot of pasta. Even my dad, who abhors gluten free pasta, said it was pretty good pasta. It wasn't chewy. It wasn't sticky. It wasn't under-or-over cooked. I recommend it!
If pasta isn't your thing, dice up some squash, cook it however you like, and serve your sauce over that. I like to sauté my veggies if I am going this route.
Notes
I want to add, if you are vegetarian, just skip the sausage. This sauce stands alone fantastically. I like to make it with eggplant too. It's just a good, hearty dish to make. I often make a huge batch, so leftovers for a few days.
Modified Motherhood http://modifiedmotherhood.com/