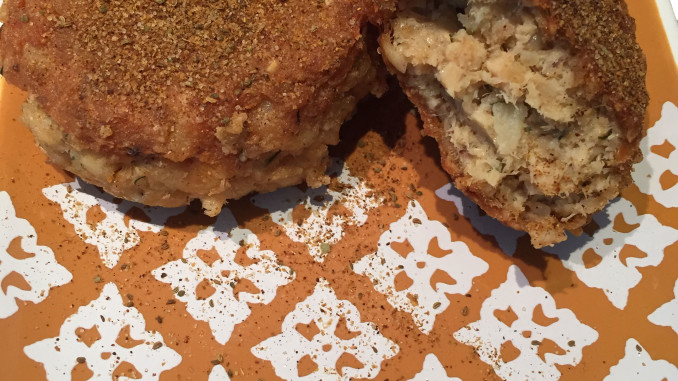 I whip these up periodically when I am stuck for a quick dinner that almost everyone in the house will devour. I recently made them and my uncle said "Those look like Grandma Marcie's salmon latkes!" – well, not quite, but pretty close! A good compliment to be paid at the very least.

I ike to send these for school lunch if there are leftovers. They hold up pretty well and can be served cold. You can make a similar latke with tuna, or any fish really. Leave out the potato, add in other veggies. This is a very flexible dish. It's so flexible, I haven't really included any exact measurements. As I said in the recipe, your mix should be moist enough to hold itself together without being so wet it's drippy. These fry up pretty quick, and if you don't want to fry them, they bake just as well. My salmon gefilte is similar to these, although the gefilte is much more labor intensive.
Ingredients
Canned or fresh cooked Salmon (if canned, use 4 cans)
Cooked Potato (in a rush? Use canned! I use 2 24oz cans of new potatoes)
Oat Flour
Old Bay (to taste)
Dill (to taste)
Eggs (2)
S&P to taste if desired (but the Old Bay sort of covers this)
Method
Mash your potatoes and put in a bowl and set aside.
Flake your salmon. I prefer larger bites of salmon, but if you don't, feel free to mash your salmon too. Put it into the bowl with the potato.
Beat the eggs with the seasonings and then fold gently into the salmon and potato mix.
Thicken with some oat flour. I generally eyeball this. It's probably around ¼ cup. Your mix should be moist enough to hold together without being so wet it drips.
Using your hands make into patties. I like them to be about an inch thick and 3 inches across.
Pan fry - I use bacon grease. You can use lard, canola oil, butter, whatever you like. I ike to fry them until they get a nice crust on them, and then toss them in the oven on 400F to make sure they are heated through (if pan frying didn't do this). Because everything except the egg is cooked already, these are pretty quick!