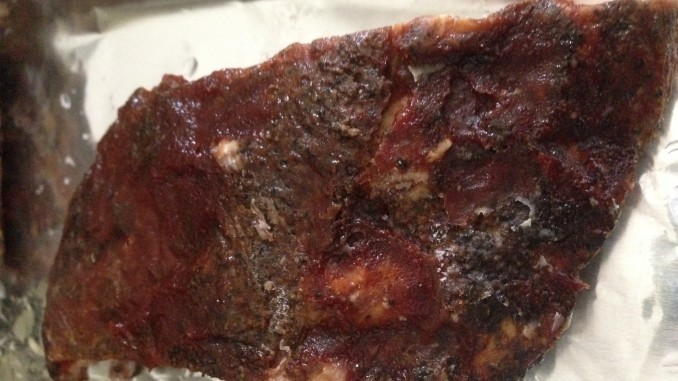 I made these ribs about a month ago. I hoarded almost an entire rack in the freezer, which I've just finished tonight. Hoard worthy ribs? Oh yes. And they kept amazingly. The husband helped cut them into threes, I wrapped them in wax paper and then in aluminum foil. They kept fantastically. I'll add re-heat instructions too, promise. I started with this recipe, but of course I tweaked it! I'm sure the original was good too – but mine were to die for!
When I opened the oven after the initial cooking, I was so taken aback. I wasn't expecting something that smelled, no lie, like a pot of Maryland crabs. I couldn't figure out how, when I used no Old Bay, my favorite scent in the world was wafting out to greet me. Yes, yes, some of the rub seasonings are used in Old Bay, but it's not an exact match by any stretch, and seriously, Old Bay on ribs? I would never think it would be a match.
So I'm salivating. You have no idea. This Baltimore girl can clear out a bushel of crabs on her own. I open the foil packets and Boom! My brain is confused, my nose is having a nosegasm and my stomach is all feed me now! So I slather the sauce on and shove it back in the oven before I go to town without the darn sauce. Fast forward an hour of babysitting basting these babies later and I'm dying to eat them.
Have I mentioned I'm not normally a rib kind of girl? Really. I mean, I enjoy a well prepared rib, but I'm not about to walk away from the table needing a shower or anything.
So we plate them up and holy cow OMG and every other cliche wow statement you can think of.
So I hoard most of the ribs. To be fair, I made something like 20 pounds of chicken quarters on this very same day, and made three racks of ribs. I didn't steal food from anyone in order to hoard my ribs. Like I said earlier, I had the husband help cut them into groups of three. I wrapped them in wax paper, then in aluminum foil (thanks Gram, who taught me nothing if not that having a full freezer of ready to eat food is a mitzvah, especially when it's well packed), labeled with my ever present kitchen Sharpie and tossed them in the freezer. I've been eating them for lunch for a month. Not every day or anything, but probably at least once a week. I whipped out the last two packages tonight for dinner. Reheating is super easy. Open the foil, remove the wax paper, wrap them back up in the foil, and stick in the toaster oven (or the big oven, but what an energy waste for just three ribs) on 350F for about 20 minutes. Do you have to wrap it back up? Nope, but you run the risk of drying out your ribs if you don't. At least cover them. Please. And nope, you don't need to defrost them. I threw them in straight from the freezer.
All that extra sauce? Freeze it. I had 3 16 oz. containers, plus about an other 8 ounces and I threw it in the freezer too, so next time I make chicken, or ribs, or want a dipping sauce, there it is!
The sauce is not Whole30 compliant… or especially paleo compliant – it does have a cup of sugar in it. I bet you can sub it out for honey, but that puts 3 cups of honey in the sauce, and I don't know about you, but my delicious raw unfiltered local honey is expensive. My Billingtons sugar is too, but not quite as much. I guess palm sugar would work too but I didn't have any when I made this. Seriously, they were delicious without the sauce, so if you really don't want the sugar, you can enjoy these without the sauce.
Baby Back Ribs with Sweet and Sticky Sauce
2014-09-12 08:56:34
FOR THE RUB
½ cup sweet paprika
⅓ cup onion powder
¼ cup ground black pepper
3 tbsp. celery seeds
3 tbsp. dry mustard powder
3 tbsp. kosher salt
2 tbsp. chili powder
2 racks baby back pork ribs (about 2 lb. each)
enough foil to make a pack - we're "steaming" these ribs first!
FOR THE SAUCE
3 cups Pomi crushed tomatoes
1 cup sugar
2 cups honey
⅓ cup apple cider vinegar
¼ cup molasses + 2 Tbsp
3 tbsp. fresh lemon juice
2 tbsp. GF Worcestershire sauce
2 tsp. GF soy sauce
1½ tsp. kosher salt
1 tsp. garlic powder
1 tsp. onion powder
1 tsp. Sriracha (or to taste, but really, this was enough for that "after bite")
½ tsp. ground black pepper
To make rub
Mix paprika, onion powder, pepper, salt, mustard, celery, and chili powder in a bowl.
Rub the mixture all over the ribs.
Wrap the entire rack, meat side up (this just saves a step later) in a foil packet and rest on a jelly roll pan (you're going to cook on the pan, and you should be able to fit both racks on one pan).
Let sit at room temperature for 1 hour.
Meanwhile, make the sauce
Pour tomatoes into a 4-qt. saucepan.
Whisk in sugar, honey, vinegar, molasses, lemon juice, Worcestershire, soy sauce, salt, garlic and onion powders, Sriracha, and pepper, and heat over medium-high heat.
Cook, stirring, until thickened, about 10 minutes.
Set burner on low/simmer/1/whatever your lowest setting is without being off and give it a stir now and then, but otherwise forget you made sauce for the next two hours.
Preheat your over to 225F.
Place ribs, meat side up, on jelly roll pan in the oven.
We're using a jelly roll pan just incase any juices escape your packet - it will contain the mess. Cook the ribs in the packet for about 2.5 hours.
Has it been 2.5 hours already? Pull your ribs out of the over, and carefully (steam!) open your packet of foil. At this point you can sort of wrap the foil around the pan, or trim it, or just smoosh it up so it's not in the way.
Baste the top and bottom of the ribs (careful on the bottom!) of the ribs with the sauce you made earlier and return to the oven meat side up.
In about 15 minutes, turn once and baste with sauce.
In another 15 minutes, turn back over (we should be meat side up again), baste and return to the oven.
Continue to baste the top every 15 minutes (or so, you don't have to set a timer to it or anything) until the tip of a small knife slips easily in and out of the meat.
Serve with remaining sauce on the side.
Modified Motherhood http://modifiedmotherhood.com/