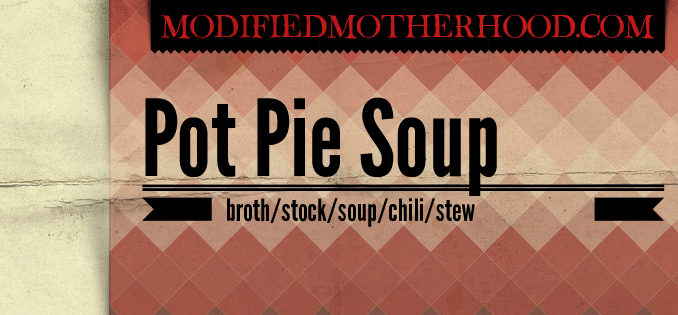 Repost from (2009-12-23 16:50)
We had this at Sweet Tomatoes in November, and I was so bummed when we went back a week later and it was gone! I make pot pie almost once a week, and wanted to give this a try. This isn't the recipe I had at ST, it's one I adapted from my pot pie recipe.
Pot Pie Soup
2014-09-12 09:50:23
Ingredients
1 or 2 rotisserie chickens (depends on how much chicken you want - I used one though)
8 cups chicken stock
1 cup heavy whipping cream OR half and half
1 - 1.5 sticks of butter
1 cup of AP/GF AP substitute
4 - 6 cups frozen or fresh veggies (green beans, corn, carrots, peas, celery)
salt & pepper to taste
biscuits (I like the recipe on the back of the Pamela's GF mix)
Instructions
pick the chicken(s) and set the meat aside.
melt the butter in a large pot (like a stew pot)
slowly whisk in the flour. this should make a thick paste.
slowly whisk in the stock. it should stay thick until the end of the first four cups, maybe the beginning of the fifth/sixth cup.
add the cream or half and half. you should have a very rich and creamy soup now.
add the chicken, give it a stir
add your veggies. yep, all of them.
salt and pepper to taste.
That's it! Let it cook for another half hour or so if you used frozen, about 15 - 20 min if you used fresh, or until everything is cooked and hot.
Set in a bowl with a biscuit on top or on the side, or crumble crackers over to make a "crust".
Modified Motherhood http://modifiedmotherhood.com/