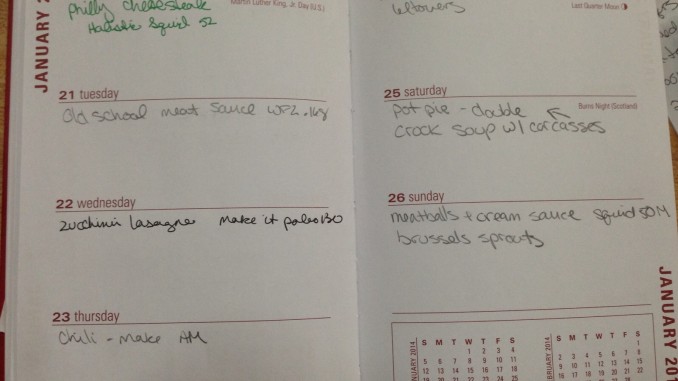 I just finished planning out my meals for next week. I leave some wiggle room, and we often wind up moving meals from one week to the next. Overall, it works out well, and it lets me plan what to shop for and what to defrost when.
I know I've touted meal planning before. I've linked to services that do all the planning for you. (eMeals is still one of my favorites, but I also like Holistic Squid, Once A Month Mom and a few others) I love them. But I cannibalize them. I mix up weeks. I mix up plans! I grab one from here and one from there. I try to make sure I can make extra of one thing one night and use the extra another night (most good plans already plan this for you!) but it doesn't always work out.
Some weeks I wind up with my favorite, freezer food! I currently have six 16 ounce containers of pulled pork in my freezer. I have a ziplock freezer bag of sliced brisket (and it's juices in a jar!). I have containers of whole, peeled plum tomatoes because I didn't need an entire jar, and barbeque sauce and tomato sauce and whatever else I've stockpiled. So on days I don't want to cook, I can grab some of that dinner gold and be done with it.
That is a picture of next weeks plan. It's usually all in pencil, I like to be able to erase and move things over instead of having a crossed out mess. But sometimes I gotta write it RIGHT NOW and there is no pencil. Oh well.
Some notes about my planning. I always write in where the recipe is if there is one. That's what those weird notes are (like WF2.# or Squid #). I've found if I don't write where the recipe is (if I need one at all) then I waste valuable time looking for said recipe, or wind up making something entirely different.
Saturday is easy day. I'm making frozen burger patties tonight. I work roughly 8 – 3, so easy is a must. My burger patties rotate between homemade and store-bought. This week they're bought. It depends on the price of ground beef vs. frozen patties. It's as simple as that!
Friday is now always leftovers day, because I just don't have time for anything else on Friday when they have to eat in a certain window of time.
Thursday is crock day. Or it's the day my dad orders Chinese. I think he prefers crock day. I work Thursday afternoons so I have to have something ready to go for the kids. It's infinitely easier to crock than to try and time something right to put in at 2 and be ready at 5. The crock leaves much more "room for error" and doesn't burn.
Wednesday. Glorious Wednesday. I have time to cook on Wednesday. I try to do something a little more fancy-schmancy that night.
Tuesday varies. My husband has off every other Tuesday. So some Tuesdays are also crock or frozen meal days and some Tuesdays are fresh.
My husband cooks on Monday now, even though we spend Monday running around like crazy (I work Monday, and he runs around like crazy). Dinner is super late that day, so we either pre-prep or it's an easy dinner. Or we eat crazy late. Like 9PM. Yuck.
Sunday… Sunday is fancy dinner night too. In fact, Wednesday and Sunday are the only days I have real time to just hang out in the kitchen and de-stress while I cook. Man, that's a sad realization! I spend a chunk of time on Sundays while I'm making dinner prepping for the rest of the week as well.
Some weeks I don't put as much effort into my planning. And it shows. We eat out more on those weeks. Or we clean out the freezer. And everyone complains because no one likes an entire week of eating out or eating freezer food.
Sides. I don't always list sides. Or they're already listed with the recipe I'm making, wherever that recipe is. Or it's an all in one kind of meal (like potpie). But if I haven't listed a side, that doesn't mean there isn't a side being served.
Breakfast & Lunch Prep. I don't know about you, but my kids take lunch. Every so often the buy lunch, but, well, yuck! I've been pretty faithful the past few weeks about making breakfast refrigerator oats on Sunday night. I make enough to last the week and a few extra for anyone who wants them. My oldest has been taking chicken Caesar salad for lunch, so we make a handful of chicken breast Sunday night and prep his jar salads for the week. He helps – I don't make lunches anymore.
They make their lunches or they don't eat
(and he didn't take lunch for quite some time because of this).
This week I'm adding cilantro lime shrimp to our pre-prep. My middle son loves them and they are so much less to make at home than they are to buy pre-made from, well, anywhere (although Costco and WholeFoods both have an excellent cilantro lime shrimp). I'm also making some deli tuna from Well Fed 2 – it was a hit last week and I think doubling the recipe will make a few nice lunches. Maybe there will even be some left for Michael & I!