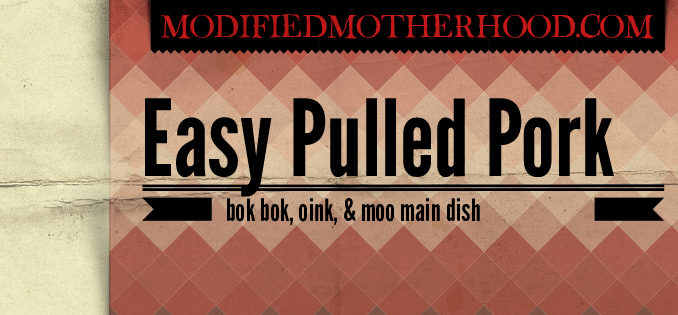 I've been seeing a lot of winter recipes popping up on the blogs I follow lately. That's been my cue that it might be getting chilly in other parts of the world that aren't my latitude and longitude. I live in sunny south Florida – it's never really slow cooker weather even though I use mine two or three times a week throughout the year. (Shhh I actually have three slow cookers I keep on rotation – I used to be in the habit of having a slow cooking broth on all the time, but I haven't made one in quite a few months)
I grew up on the Chesapeake Bay. I was raised in the summer on a steady diet of blue crab and Maryland Silver Queen corn. No lie. In the winter, however, it was hearty beef stew and thick oatmeal or cream of wheat. Picture snow drifts and warm, crackling fires and being allowed to eat in the living room instead of the dining room so you can keep warm by said fire. Not really south Florida fare (fireplace? what's that?), yet they find their way onto my table more often than not. I usually reserve stews for winter months, but not always. This week my slow cooker graciously spent the day making my family chicken with apples & rosemary and sausages with peppers & onions. I think I had a roast in one day too.
Now, some of the slow cooker recipes I've seen lately seem to be for people who don't really need to use a slow cooker. So much pre-prep! Not just slicing & dicing, but actual pre-cooking of food to be cooked! I don't know about you, but I want to toss everything in the pot, set it, and come home eight to ten hours later to amazing deliciousness waiting to be inhaled eaten. Toss in some hard veggies (usually carrots and/or potatoes), toss in the protein (usually beef or chicken or pork), throw in a little seasoning (salt, pepper, Italian blend, herbs de provence, anything, really), a splash of water or broth or stock, lid, a little heat & time, et voila! Dinner! (Hey, that's a recipe for yum, commit it to memory).
I've done applesauce. I've done jam. I've even done desserts in there. It's such an all around useful little gadget, no wonder I have more than one!
Easy Pulled Pork
2014-09-12 08:15:27
Ingredients
4-5 lb pork shoulder roast, skin on, bone in
2 Vidalia onions, sliced, one thick, one regular
Dry Rub
3 tbsp chili powder
1 tsp coriander
2 tsp cumin
2 tsp onion powder
1 fistful (ah, my fist is about ¼ cup) dried parsley
scant ¼ tsp chipotle powder, more of a dash, really
2 tsp sea salt
Instructions
Mix your dry spices thoroughly in a bowl. Set aside.
Thickly slice one onion and lay in the bottom of the slow cooker. Slice (normal slice, not thick, not thin) other onion and reserve.
Get your rub and rub down your entire shoulder. Use all the rub. No, really. I like to put the roast in the slow cooker and sprinkle the rub over top and then rotate the roast to get to the rest. That was any extra just falls into the bottom of the slow cooker with the onion or to be picked up while you're rotating to rub it all in.
Put the rest of the sliced onions on top of the roast.
No additionally liquid is needed.
The original recipe has you cooking this on high for 5-6 hours and then on low for 3-4 hours. I like to cook this on low for a full day (24 hours). I found this method entirely by accident. I made this one day, and it was left on "warm" overnight after we had eaten. Well, it was even more delicious the next day, so the next time I made it, instead of this high then low fiddling I just put it on low the day before I planned to eat it. Heaven. Heaven was in my mouth. The darn thing fell apart on it's own. I barely had to shred it. I just had to lift out the skin & bone and there it was, ready to eat.
Notes
Not the healthiest pulled pork, what with the fat from the skin, but it's delicious. I tend to make an eight+ pound shoulder and reserve the extras to make taquitos or just freeze for later. The 4-5 pound the recipe calls for probably won't have too many leftovers.
Adapted from everyday paleo
Modified Motherhood http://modifiedmotherhood.com/