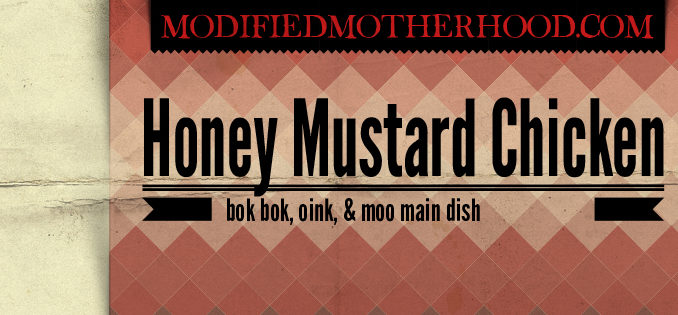 Again, I'll take a photo next time I make this. Originally posted Honey Mustard Chicken in August 2012.
Even my pickiest eaters liked this. I'm pretty excited that everyone said I could make it again. It was super quick, and I have everything I needed to x it already in my kitchen. I also think it'll keep well enough to send for school lunches which I am already fretting about.
I used Perdue brand frozen chicken breast, which are already cut in half and around 1/4″ thick. BTW, down here in SoFl that brand name frozen convenience food costs less by almost 0.40$ per pound than Costco brand frozen chicken breast and almost 0.75$ per pound than Costco brand fresh chicken breast (fresh is 2.99$ per pound for those keeping track). Since I'm just going to freeze it anyway, this makes more sense for me. YMMV, as always.
The potatoes were just regular potatoes, quartered and coated in canola oil (although I'm wondering what deliciousness coconut oil would impart…) and dusted with a season all spice mix. Last time I used a cajun mix, and also Old Bay (yum! You can take the girl out of Baltimore, but you sure as hell can't take Baltimore out of the girl!) and some plain salted ones. Bake on 425F for around 30 minutes and serve hot.
The kids love them and they are so easy! I put out a bowl of fresh spinach and there's dinner!
Honey Mustard Chicken
2014-09-12 09:38:30
Ingredients
1/2 Cup mayo
2 T deli (spicy brown) mustard
1 T honey
2 t Apple Cider Vinegar
1 or 2 t minced garlic (I used one heaping teaspoon)
1/2 t kosher salt
1/4 t ground pepper
3 chicken breast halves, cut in half (for a total of 6 pieces) and pounded as needed into 1/4 inch
Instructions
Whisk all ingredients except chicken. Brush (I used a silicone spatula) with mix and grill over med-high, brushing chicken with mix as needed.
I used a cast iron ridged grill pan with my electric range set to "5". I found I did not need to add additional sauce to the chicken as it cooked, but you may want more.
If you didn't toss your chicken into the bowl to coat it (ya know, like I did!) you can serve the mayo mix on the side too!
Modified Motherhood http://modifiedmotherhood.com/