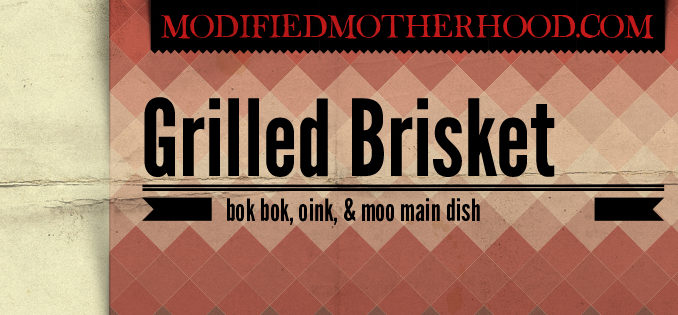 *gasp!* A recipe! It's been so long!
I made this grilled brisket for Passover. I wasn't feeling the same old sad oven made brisket. Don't get me wrong. I make a phenomenal brisket. I was just wanting something different. I figured we grilled the turkey for Thanksgiving, we'll grill the brisket for Passover!
I found quite a few smoked brisket recipes online, but I was looking less for a long smoked recipe and more for a rub & mop recipe. I came up with this (sorry for no photo, I'll be sure to take some next time!) based on the numerous recipes I found.
If anyone is interested, the rest of my Passover menu included salmon gefilte fish, homemade chicken soup (no matzo balls), fresh charoset, hard boiled eggs, salad, brussels sprouts, and roast carrots.
Grilled Brisket
2015-04-14 19:22:51
Ingredients
3-4 lb brisket - I used 3rd cut
RUB
3 tbsp black pepper - coarsely ground
1 tbsp sugar
1 tbsp onion powder
1 tbsp mustard powder
1 tbsp garlic powder
1 tbsp chili powder
1 tsp cayenne (or to taste)
MOP/SAUCE
1 tbsp paprika
2 tsp black pepper
2 tsp chili powder
1 tsp ground cumin
2 tbsp butter (or bacon fat!)
1 tbsp + 1 tsp onion powder
1 tbsp + 1 tsp garlic powder
1/4 cup ketchup
1/4 cup apple cider vinegar
4 tbsp Worcestershire sauce
2 tbsp brown sugar
2 cup beef broth OR 2 tsp better than bullion beef bullion + 2 cups water
a little sriracha if that's your thing
Instructions
Mix your rub in a bowl and use all of it to cover your brisket. Cover and let your meat sit for a couple of hours in the fridge if you have the time. You don't have to, but your taste buds will thank you later. I like to do these up two at a time, put them in a half-sized steam table pan and cover tightly with foil and shove the whole thing in the fridge.
Start your grill. I'm a charcoal girl. I do up two chimney starters and let them set out a bit. While your chimney is starting, start your mop.
Put your butter in a sauce pan and heat gently to melt. Add all your spices & brown sugar and mix a bit - it'll sort of make a sludge at this point. That's ok! Next, add the ketchup, vinegar, & Worcestershire and whisk gently to combine. You should have a thicker saucier looking mix now. Then add your stock (or your bullion & water, whichever you chose) and bring to a rolling boil and then drop the heat back down. I like this to be sort of in between a watery mop and a thicker sauce. This is because I don't actually mop my meat so much as use a turkey baster to wet it down every 20 minutes or so.
Now that your mop is done and your grill is hot, take our your meat and put it fat side up on the grill. I like my grill to stay around 350F - 375F, and allow for highs of 400F and lows of 300F throughout the cooking process.
Close your grill and let your meat sit for 20 minutes and then check it for being ready to turn over. If it's ready, turn it over. If not, give it a few more minutes. Wait another 20 minutes or so, and if it's ready, mop it, turn it, cover your grill and walk away for another 20 minutes. Then come back, mop again, and turn. Go do the hokey pokey for another 20 minutes. Now is the babysitting time. I like to mop and turn for the next 20 minutes. I also like to leave the fat side down at this point to get a nice crust, and then pull the meat.
Let it rest for another 20 minutes or so, and then slice that hunk of beef and serve hot.
Notes
I actually double my recipe and make two 4 lb briskets. Your time will change drastically if you buy a whole brisket instead of smaller, cut briskets, but your meat will taste delicious. So prepare for a day of babysitting your grill if you opt for a full size, uncut brisket. Also, at least quadruple your rub and mop for a full size brisket. For a full size brisket I'd grill at a lower heat (closer to 250-300F) for the duration rather than a higher heat to prevent too much charring on the outside, and add some coals at the end to boost the temp for that tasty outter crust.
Modified Motherhood http://modifiedmotherhood.com/