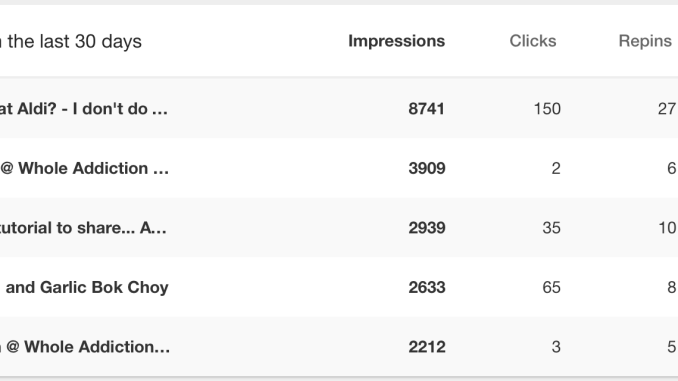 Let's talk about food shopping. It sure is an entirely different animal than any other type of shopping. My style is "mostly paleo, which some gluten-free thrown in". Which leads to this:
This pin, which points to Practical Paleo, is one of my most pinned pins over on pinterest. How many more times can I say pin? It point to a blog about shopping for paleo food at Aldi. You now, on a budget. It can be done!
How I wish that pin was back to my own site!
Stepping away from that wish, it's an amazing post. I love my local Aldi. I don't love their produce. I find it goes bad too quickly, or is bad in the store… but I am stupidly super picky about produce and I have this complaint about a lot of stores. I do love their (tiny) meat selection, and I love the wide variety of "staples" I can get there. My general shopping list is almost exclusively meat (cow, pig, chicken, turkey, and occasionally lamb), seafood (salmon, tuna, shrimp, and occasionally scallops), veggies, fruits, nuts, juice, soy/almond milk, and other snacks. Hm, that's not really so exclusive, huh.
I have people ask me constantly "well, what do you eat?" Feel free to swap out "do" for "can", "will", "are you allowed", it goes on and on. My general answer is generally "everything else!" and that sort of puts an end to the interrogation. Usually.
But not always. So I thought I would share what my general food shopping list can entail (but not every trip).
Almonds. We almost all love almonds.
Cashews. I abhor cashews, but other people in my house like them. Mostly the ones who don't love almonds.
Pistachios
Raisins
Craisins (ok, they almost always have additives, but my boys like them)
Dried Figs
Dried Dates
Dried Pineapple (How come other fruits are dried so and so, but raisins aren't dried grapes?)
Unsweetened Applesauce (Big and small containers, I have no shame. We recycle.)
Fruit Leathers. I make these myself about once a year, which is often enough to remind me I hate running my dehydrator too often in hot and humid south Florida.
Chips. Don't crucify me! It's one of the few "not good for you at all ever" snacks we get.
Corn Tortilla Chips
Chocolate Plant Based Protein Powder. They also make vanilla, but it tastes weird.
Canned Pumpkin/Yams. I've read these are often the same thing, read your labels!
Chocolate Chips
Fresh & Dried Herbs
Spices (Oh, my beautiful, stuffed spice cabinets, yes, plural, are ridiculous, but honestly, if they jar it, get it)
Olive Oil
Coconut Oil
Pickles
Mustard
Ketchup (that 12 pack lasts forever and it a great price)
Canned Tomato Product
Canned Tuna. I like this stupidly expensive brand and stock up when Costco has it on sale.
Canned Salmon
Carrots (full sized and shaved to baby sized)
Mushrooms
Celery
Green Onions (scallions)
Cilantro
Avocados
Cabbage (green & red)
Bok Choy (doesn't that fall under cabbage?)
Bell Peppers
Sweet Potatoes
Tomatoes
Zucchini
Brussels Sprouts (again, cabbage?)
Green Beans
Broccoli
Onions
Cucumber
Spinach
Bananas
Pineapple
Apples (We like the Pink Lady variety)
Lemons
Limes
Strawberries
Oranges (navel, clementines, honeybell, blood, depends the season)
Lettuce (romaine & iceberg)
Eggs
Butter
Whole Chicken
Salmon
Red Snapper
Ground Meats (Turkey, Pork, Beef)
Steaks (cut varies)
Boneless/Skinless Chicken Thigh
Lamb (leg & rack, depends what's on sale)
Pork Loin
Pork Ribs (baby back, country, again, depends on what's on sale)
Beef Short Ribs
Hotdogs (Applegate brand)
Lunch Meats (Applegate brand)
Udi's GF bread (for the sandwich meats, because at least one of my children isn't into meat-wraps. I'm OK with that.)
All those meats? I like to go to Penn Dutch around 8:30AM and grab up the "managers special" packages. They usually have a sell by date of that day or the next, but chances are I am cooking it that day or freezing it. I get some seriously discounted meat that way. I also like to buy in bulk through Zaycon. If you have a couple of hundred dollars to tie up in food, this is the place to do it. I've gotten their chicken breast, ground beef, bacon, patio steaks (these were amazing!) and a couple of other items as well. It's all been delicious. I'm trying to save some cash so I can get their salmon. I am hoping to do so before it's sold out and I can pick it up in October!
I may pick up some other items. And like I said, that isn't my "every shopping trip" list. I like to get Pamela's GF pancake mix to make waffles. I like to get Crystal Light drink mix because I hate plain water. I also like those Mio drops. And the occasional tub of ice cream. Sure, I know they aren't good for me. I'm OK with that too.