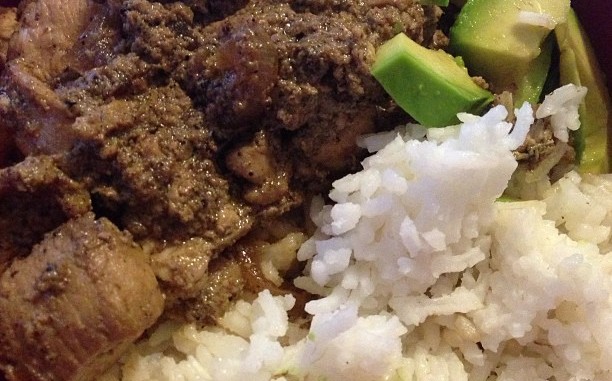 I have bags of this frozen in my freezer just waiting to be thawed and cooked. Delicious. I didn't bother to pre-cook because it's so quick to cook up fresh. My kids adore it. I adore it. They told me today that Chipotle should carry this kind of chicken. I call that a win!
This chicken is perfect for freezer prep – just store it in quart sized bags or quart sized take out containers. It defrosts fairly quickly – if I take a bag out at breakfast we can usually eat it for lunch. If you have leftovers, it's perfect for school lunches. It tastes just fine chilled over salad greens or even just by itself. I want to try and make it in the crock pot and make it more like a pulled chicken – I'm thinking it'll come out fantastic!
Crazy Easy Fajita Chicken
2014-09-12 09:02:57
Ingredients
1 teaspoon chile powder
1 teaspoon kosher salt
1/2 teaspoon ground cumin
1/2 teaspoon onion powder
1/4 teaspoon garlic powder
1 tablespoon arrowroot powder
1/4 cup water
3 tablespoons extra-virgin olive oil OR fat of your choice - lard was delicious!
1 whole skinless, boneless chicken breast (about 1 pound), cut into 1/2-inch strips OR chicken thighs - they add a delicious bit of fattiness!
1 medium onion, thinly sliced
Shredded lettuce, shredded cheddar cheese, salsa and sour cream, or whatever else, for serving
corn/GF tortillas/taco shells/whatever for serving
Instructions
In a ziploc bag, combine the chile powder with the salt, cumin, onion powder, garlic powder, arrowroot, water and 2 tablespoons of the fat. Add the chicken and onion, seal and knead gently to coat. Refrigerate for 15 minutes or freeze at this point for later.
Heat the remaining 1 tablespoon of fat in a large skillet until shimmering. Empty the contents of the bag into the skillet and cook over high heat, stirring occasionally, until the onions are translucent and the chicken is cooked through.
You can also cut your chicken into bitesize pieces before cooking and serve over rice with avocado.
Adapted from Food & Wine
Modified Motherhood http://modifiedmotherhood.com/