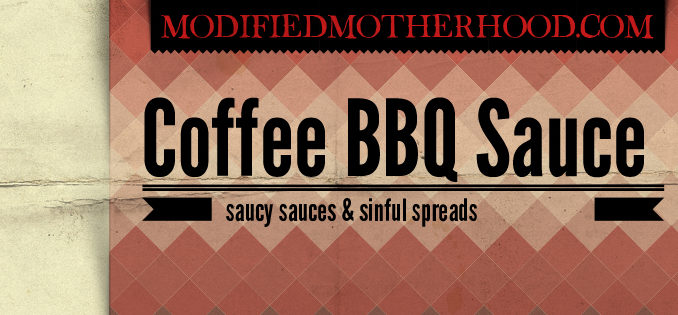 This sauce was delicious. It has a little bit of an after-bite that my kids weren't in love with, but overall it was a nice sauce. It got milder with age (something that surprised me) and about two weeks of storage in the fridge all but killed that little after-bite it had when fresh.
We cooked the chicken thighs for about 20 minutes on one side, then 20 on the other, then turned and sauced for 15 – 20 min and then turned and sauced again. I like my BBQ chicken a little on the charred side, so cook to your preference on your grill. I highly suggest the pre-cook time though!

Print
Coffee BBQ Sauce
adapted from Tasty Kitchen
Ingredients
1 cup Strong Brewed Coffee
1 cup Ketchup
½ cup Firmly Packed Brown Sugar or sweetener of your choice
½ cup Apple Cider Vinegar
½ cup chopped Vidalia onion
½ cup Sweet Red Chili Sauce
4 cloves Garlic, Grated
2 Tbsp Worcestershire
2 Tbsp Ground Cumin
2 Tbsp Chili Powder
1 Tbsp Sriracha Or Tabasco Sauce
1 Tbsp instant espresso or strong instant coffee mix (Bustelo is awesome!)
Method
Stir all ingredients in a medium sauce pan. Bring to simmer then reduce the heat to low until flavor melds, about 40 minutes, occasionally stirring the sauce. Cool to room temperature and serve. Will keep for about 2 weeks or more in the refrigerator.