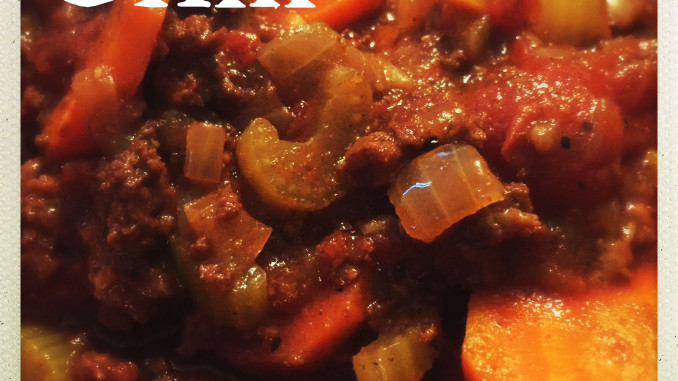 I made a slow cooker chili a few weeks ago, and it was pretty good. I made a stove-top chili twice in the last week. It was better and was almost as "set it and forget it" as the slow cooker version.
This isn't a typical chili. I had at least two people ask my "who puts carrots in chili?" to which my reply was, "I do!". Actually, my chili can double as a [thick] spaghetti sauce. If you aren't into thick spaghetti sauces, add some more tomatoes and water (or beer!). I like to use it to dump whatever miscellaneous veggies are in my fridge on the verge of not-so-good. Like almost-floppy or already-floppy celery and carrots.
I tend to not do a super-spicy chili. This one only has four spices in it, but it's plenty flavorful. It's held up against some other chilis I've made that have a dozen or more spices involved. Will it win a competition? Well, maybe not so much, but it's perfect for a quick to put together dinner.
Print
Chili (paleo, gluten free)
Ingredients
4 - 5 lbs lean ground beef
4 small/medium sweet onions, diced
4+ cloves chopped garlic (or crushed, or however you like your garlic)
3 large carrots, sliced into thin coins
1 bunch of celery, diced (I leave it U-shaped, but making "coins" out of celery doesn't sound right), save the leafy tops for soup!
2 28 oz cans San Marzano peeled tomatoes
4 heaping tablespoons (it's about ¼ Cup) chili powder
2 heaping tablespoons paprika
cinnamon (just a shake or two, I've never measured this, optional, I don't like cinnamon)
1 tablespoon ground pepper
½ - 1 Cup water
Method
Get a big pot (I call it a stew pot, it should comfortably hold anywhere from 6 - 10 quarts) and heat some oil in the bottom. I like to use bacon fat, but maybe that's not your thing. Any kind of fat will do.
While your fat is heating, dice your onions. I like a lot of onion. Once your pot and fat is suitably hot, throw all of your diced onion in and heat until translucent.
While you're waiting for the onion to cook, start cutting your celery and carrots and set aside.
Once translucent, add your garlic. I like to let a little of the onion caramelize at this point, but not all of it.
After your onion has finished cooking, add your dry spices and mix thoroughly.
Add the ground beef, breaking it up as needed. I tend to use a lean ground beef so I don't need to drain it. It's a lazy thing, not a healthy thing.
Once your ground beef is roughly half-cooked, add the celery and onions, again, mixing thoroughly. The beef will continue to cook, and if you've used lean ground beef, then you won't need to drain it.
Add both cans of tomatoes. I like to add ⅛ - ½ cup of water to each and give it a swirl to get all the tomato-y goodness out of them. That gives you the extra liquid you need to!
Bring to a boil, then cover and drop to a simmer.
I like to simmer this for 45 - 60 minutes. It isn't necessary, but it does let it blend a little better. It can set for longer on "keep warm" or "low" or whatever your stove top calls "1". If you find it's evaporated too much just stir in some more water. If you already added too much water, bring it back up to a simmer, uncovered, and let it boil off.
This is pretty good with a cheap beer as the extra liquid content instead of water. It's a pretty good "base" chili in that you can really add whatever spices you want. Or beans, Or other veggies. Or whatever. I love it because it's flavorful and quick, and honestly, pretty cheap once all is said and done. I can feed eight people with one pot, and usually have leftovers for lunch the next day for a few people. Adding beans and more veggies would obviously stretch it further. Add some cumin and make some tacos! Or serve it like a sloppy joe. Or thin it out and make a soup! The possibilities are almost endless.