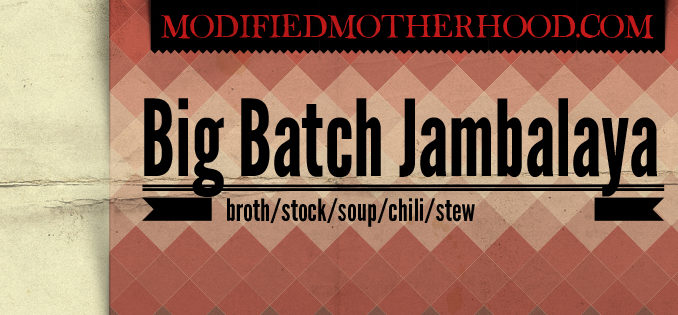 I originally posted this Jambalaya recipe to Punky Moms in 2010! I can't tell you how many times I've made it since.
Originally out of a magazine, I can't claim it as originally mine entirely. By now, it's been made, remade, tweaked, added to, and subtracted from so many times, it sure is mine now.
As always, I have no photo. I always forget. I always say "maybe next time" and never remember. So I am not even promising a "maybe next time", just make the darn jambalaya. You won't be sorry!
I like to add more veggies to this now, like okra or corn. Sometimes I stir in some baby greens. I like to change it up a bit. I've used spicy deli mustard instead of dijon. I've added mussels. I change up the rice. It's such an adaptable recipe, I often have Barbossa in my head telling me it's really more of a guideline than a recipe.
If you use the same measurements as listed below, you'll have around 13 cups. I tend to serve around a cup at a time, but we seem to always go back for seconds. If you aren't feeling eight people, and those eight people don't fight over the leftovers immediately following dinner, then you'll have lunch the next day! I love when I have some left for lunch!
Big Batch Jambalaya
2015-09-03 08:41:42
Ingredients
3 boneless, skinless chicken breasts, cubed (single breasts, not the full double breast)
3 Tbsp olive oil, divided (I eyed this and used more than 3 Tbsp)
2 pounds kielbasa, sliced into medallions
2 small or 1 medium green peppers, coarsely chopped
2 small or 1 medium red or yellow peppers, coarsely chopped
2 medium or 1.5 large Vidalia onions, coarsely chopped (I had half of one in the fridge, plus one more large)
6 - 8 garlic cloves, minced
32 oz beef broth (I like the stuff in the box)
2 cans diced tomatoes (the 15 oz cans)
1.5 cups water
3/4 Cup Dijon mustard
1/4 Cup minced fresh parsley (fresh tastes better, use ⅛ Cup if you use dried)
1/2 tsp. dried thyme
2 Tbsp Worcestershire sauce
1.5 Cups uncooked long grain rice
1 pound uncooked scallops or shrimp (if shrimp, peeled & deveined)
Instructions
In a dutch oven (or a large pot with a lid that fits), cook chicken in 1 Tbsp oil until no longer pink; remove and set aside. In the same pot, cook and stir the kielbasa, peppers and onions in remaining oil until the onions are tender. You may have to add a little more oil. I did. Add the garlic and cook for another minute.
Stir in the broth, tomatoes, water, mustard, parsley, thyme and Worcestershire. Bring to a boil. Reduce heat, cover & simmer for ten minutes.
Add the rice and return to a boil. Reduce heat, cover and simmer for 25 - 30 minutes or until rice is tender.
If you are using scallops, set your timer for 20 minutes instead and then stir them in and reset your timer for another ten minutes.
If you used shrimp, after the 25 - 30 minutes stir them in, then add the chicken too, cook for 2 - 4 minutes longer or until the shrimp turn pink.
If you used scallops, at the second timer stir in the chicken and cook until heated through.
Modified Motherhood http://modifiedmotherhood.com/