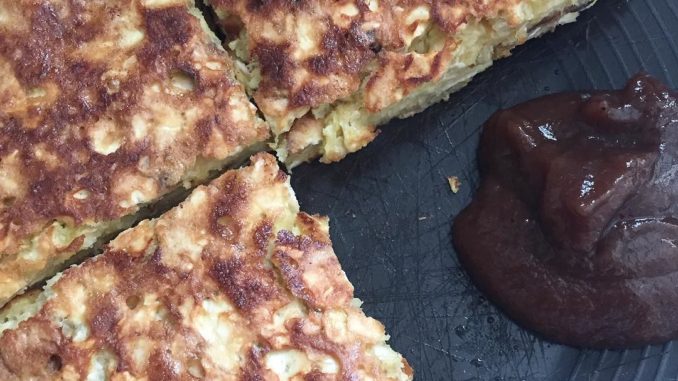 I'm singing the charoset song. It must be that time of year again. Passover. Pesach. Matzo brei breakfast, lunch, and possibly dinner. Because who doesn't love matzo brei? Sweet or savory, it's the best way to enjoy a full breakfast during this week. This recipe is for a sweeter, more french-toast like variety. I am not an egg lover, and it's pretty clear the egg in this version is literally just a binder.
Today I subbed out my plain sugar for some vanilla sugar I had been making. The flavor came through, but once I added the apple butter, it was so faint it was almost not worth the substitution.
I don't usually make a savory brei, it's not my thing. Here's the thing, any way you would make a frittata you can turn into a matzo brie. Just think of the matzo as an extra ingredient instead of the main event.
I haven't done all of my pesach cooking yet. I know most of you had your first seder last night, but we'll be having ours tomorrow. It's the first chance we'll all have to be together, and I figure, better we have a family seder a little late than not have one at all because our schedules didn't work with the start of the holiday. What did your seder look like? Make anything spectacular? I'm planning a brisket and the usual sides and maybe a few surprises. I picked up five bottles of wine, which is five more bottles than I get any other time of year.
Print
Matzo Brei
Matzo Brei
Ingredients
4 sheets matzo, + 1 if needed
3 large eggs
hot water (I use straight from the tap, no measurement)
2 tsp sugar
cinnamon
butter
8" skillet (cast iron, non stick, stainless, whatever)
Method
Whisk your eggs with the sugar and a bit of water. Just enough water to thin them. If it's your thing, add your cinnamon now as well. It's not my thing, I add that later. Set aside. Run your matzo under hot water long enough to soften it, but not make it soggy. Crumble matzo into your egg mixture and fold in until well incorporated. If your mix it too runny (sometimes I add too much water), crumble in a sheet of dry matzo a little at a time to soak up the extra. While that sits and absorbs some egg, heat your pan on medium* and throw a little butter in to melt. Empty all of your matzo & egg mix into the pan and sort of pat to even it out. Sprinkle some cinnamon to taste on top. Let this cook for about 10 minutes (see note below) and then flip. Your brie should really be mostly cooked by now anyway, you're flipping it to sort of crisp up the other side. Slide onto a plate and cut with a pizza cutter. Serve with toppings of choice. I like apple butter, or plum-vanilla preserves. I am out of plum-vanilla this year, so apple butter it is! *I cook on an electric range, and set my glass flat top to somewhere between 4 & 5. I'd call it medium-low on a gas cook top. You don't want to burn, you want to almost bake it.