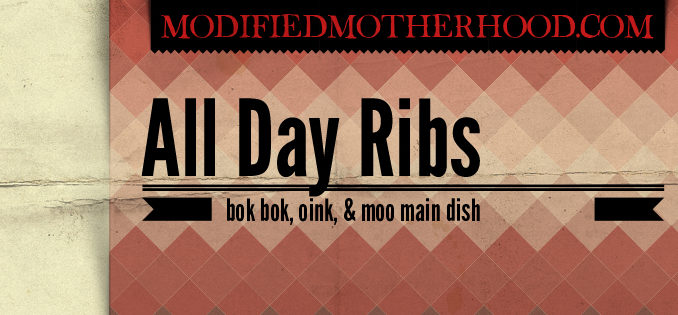 I'll take a photo the next time I make these all day ribs. So good. I originally posted this recipe in July 2012. They come out delicious every. single. time. I swear. A side dish is in the notes for the recipe, but I change it up every time I make them. It just depends on what is in the house. We're not eating white potatoes anymore, so obviously the potato wedge sides I mentioned are out! ETA 8/6/15 – I have a photo of the rub, but not the ribs. They just disappear before I remember to snap a pic!
All Day Ribs
2014-09-12 09:34:34
Ingredients
2T kosher salt
2 T smoked paprika
3 T brown sugar
1 T ground black pepper
3 t ground mustard
2 t oregano
2 t garlic powder
1 t onion powder
1 t thyme
1 t ground cumin
1 t celery seed
1 C water
1/4 C apple cider vinegar
2 racks St. Louis style ribs, membrane removed. I've also used "Chinese style" and baby back, although watch them and adjust cooking time as needed.
Instructions
Preheat oven to 300F.
Combine spices. Combine 2 T spice mixture, water and vinegar to make a mopping sauce and set aside.
Rub dry spice mix onto ribs.
The original directions are for grilling, but as noted earlier, I bake them in the oven. Place them on a foil-covered jelly roll pan fat side down once you've rubbed them. Bake this way for two hours, brushing with mopping sauce every 30 minutes.
Turn the ribs over (bone side down now) and cook 3 - 4 more hours, still mopping every 30 minutes.
Yes it's a pain in the ass to be married to the oven all day but let me tell you, it is so very worth it!
Notes
The last time we had these I made homemade baked beans, which were good but not the hit that Bush's are - what can I say, my kids are picky. The adults enjoyed them much more. This time I made oven-baked potato wedges. Quarter your potatoes, toss them in canola oil, toss them with the seasoning of your choice (I made a variety of creole, old bay and plain salted) and bake at 425F for about 30 minutes or until done. My oven is a split style with a "pie" oven on top so I was able to make them while the ribs were finishing. I suspect a toaster-over would work as well, but in multiple batches.
Modified Motherhood http://modifiedmotherhood.com/