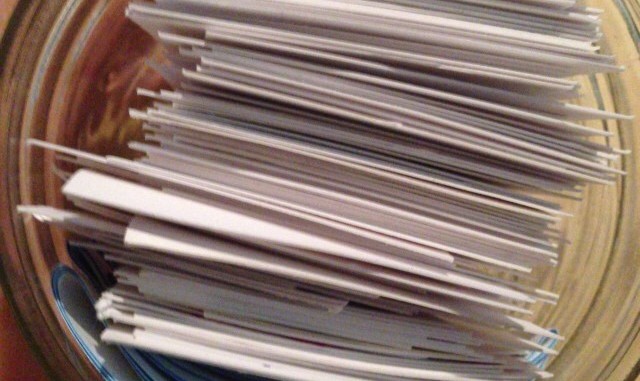 Is this already a thing the same way #project365 is? Well it is now! Grab yourself a mason jar, a pen, and some 2×4″ slips of paper and start writing! #projectmemory is a go!
Last year I wrote, almost everyday, one cute thing that happened, or that one of the kids said, or something someone got as a surprise or gave as a surprise, any silly little things that I'd want to remember and probably wouldn't. I tucked notes from teachers in to that jar. I printed out tweets. I added notes that we ate out and I was thrilled I didn't have to cook!
It isn't really something to share daily the way #project365 is (unless you want to!) but it is such an easy thing to do. I left my jar on my table with a small stack of papers and a pen. I could jot something down at lunch or dinner or during homework time. It was always out and so it was hard to forget to do. Sometimes the jar wound up in my bedroom, or on the cookbook shelf or in the kitchen. The key was for it to be out someplace it couldn't be ignored!